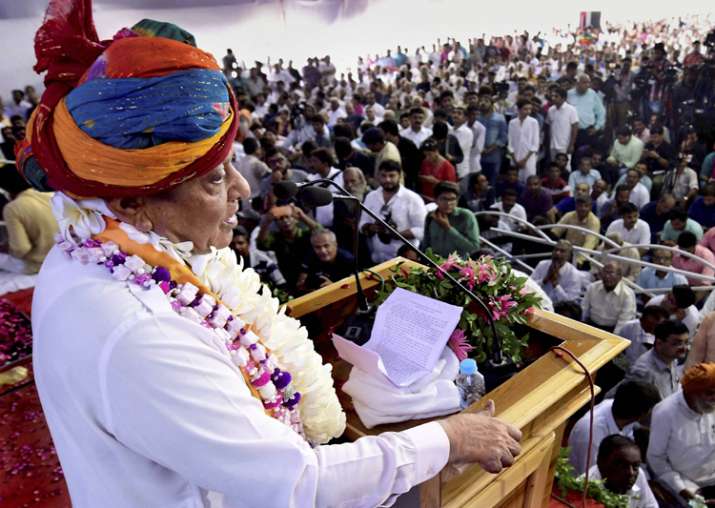 In a jolt to the Congress in poll-bound Gujarat, its sulking leader Shankarsinh Vaghela today quit the party, but made it clear that he had no plans to join the BJP or any other political party. The stalwart of Gujarat politics announced his plan to break ranks with the Congress, which he had joined two decades back after quitting the BJP, at a rally of his supporters held here to mark his 77th birthday. 
He also announced that he would immediately resign as the Leader of Opposition in the Gujarat Assembly and give up his membership of the House after the Rajya Sabha polls in the state scheduled for August 8. At the outset of the rally, Vaghela said he was expelled from the Congress '24 hours back'. 
Appealing to his supporters, he said that the 'final high command' are the people. "It is my destiny (being expelled), but I am not the one to retire. Bapus never retire. Fighting against injustice is my nature, even if it means losing everything in the process. I became a victim of intra-party conspiracy, be it BJP, be it Congress. Sacking someone may satisfy your ego, but nothing beyond that. Behave like a statesman, not a politician."
"There was a conspiracy to get me expelled. I told Rahul Gandhi about this, he said this must be to accommodate someone else. I had told Soniaji mein aapka bharosa nahi todunga (I will not break your trust). I went to meet her, told her thanks a lot Madam for everything. I may not remain with the party after sometime but don't worry I am not going anywhere. I am not joining BJP," Vaghela added.
"I am a free bird, I am relieving the Congress of me, and I release myself from the Congress," he told his supporters.
Vaghela's move comes close on the heels of cross-voting by Gujarat Congress MLAs in the July 17 presidential election. The Congress candidate in the poll, Meira Kumar, could garner only 49 votes against the party's strength of 57 in the state Assembly. 
Keeping his cards close to his chest, the veteran leader refrained from spelling out his future plans. 
The former chief minister has been at loggerheads with the state Congress leadership, which refused to accede to his demand that he be projected as the chief ministerial face of the party in the Gujarat Assembly polls due later this year. The development may spell immediate trouble for the Congress in the election to the Upper House of Parliament. Though Vaghela did not reveal his future plans, speculations are rife that the veteran leader might float a political front against the BJP and the Congress.