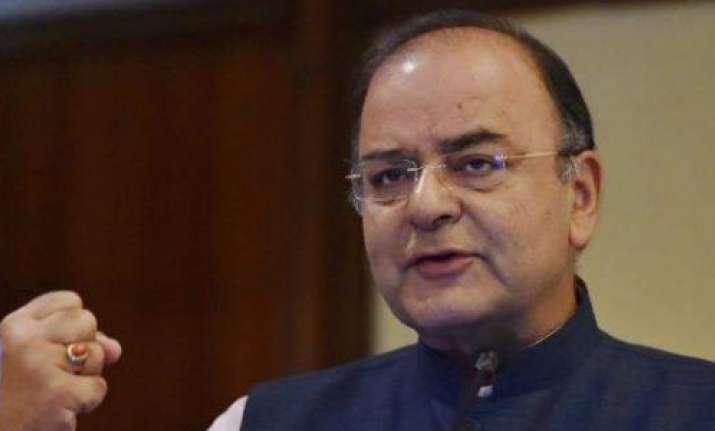 Union Minister Arun Jaitley on Monday accused Congress of driving Karnataka Chief Minister H D Kumaraswamy to desperation, saying it did the same to Charan Singh, Chandra Shekhar, H D Deve Gowda and I K Gujral when they were the prime ministers of governments backed by the party. 
Taking a pot-shot at opposition's effort to stich a "non-ideological opportunistic" alliance just to "Keep Modi Out", Jaitley said in a hard-hitting Facebook post that India cannot afford to have 'bechara' (helpless) Prime Minister. 
He said that in the past few days, "we witnessed" Kumaraswamy baring his emotions with tears, wetting his eyes and declining to accept bouquets and garlands. 
Indicating a strain in ties with the Congress, Kumaraswamy recently said he was "not happy" as Karnataka Chief Minister and was swallowing pain like Lord Shiva who drank poison. 
He is Chief Minister of the coalition government, wherein Congress is a bigger party. 
"He was candid enough to publicly state... Listening to these statements of an Honourable Chief Minister, my memory took me back to the dialogues of the tragedy era of Hindi cinema. 
"If this is the consequence of a two party coalition, what is it that a disparate group of parties with no ideological similarity offer to India?", Jaitley said. 
He further said that non-ideological opportunistic coalitions always get trapped within their own contradictions. 
Commenting on Karnataka CM HD Kumaraswamy emotional break down on Saturday, veteran Congress leader Mallikarjun Kharge said simply expressing won't give a good message to people who supported secular parties in the state.
"You've to face problems. Simply expressing won't give good message to people who supported secular parties. Kumaraswamy should be courageous to face such circumstances," news agency ANI quoted Kharge as saying on Sunday. 
Kumaraswamy on Saturday broke down and said that he has "swallowed" the poison of his party's coalition like Lord Vishakantha.
Catch all the latest news about Indian politics HERE
"You are standing with bouquets to wish me as one of your brothers became the CM. You all are happy, but I'm not," the chief minister said at an event in Bengaluru.
"I know the pain of coalition government. I became Vishkanth and swallowed the poison of this government," he added.
Despite disagreements over the portfolio and other issues between JDS and Congress, both the parties have on many occasions tried putting up a brave face, but this time the chief minister let it all out.
Giving clear signals that all is not well within the JD-Congress coalition in the state, Kumaraswamy said that he wasn't happy. 
Catch all the latest news about Lok Sabha elections 2019 HERE
Taking a jibe, BJP spokesperson Sambit Patra tweeted, "Hope Rahul Gandhi doesn't tweet that there is "भय का महोल" under BJP rule & we are forcing Mr Kumarswami to swallow the "Poison" of power. I don't understand why these politicians are forced to consume poison of power..remember one night Sonia ji too in tears said Power is Poison!"
(With inputs from agencies)