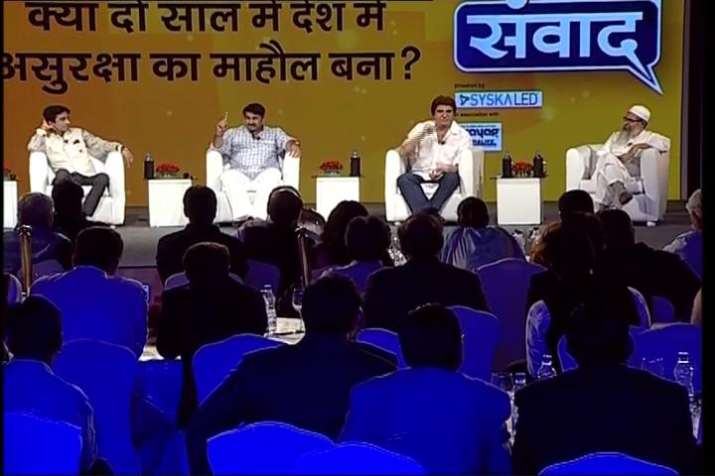 New Delhi: A group of opposition leaders from Congress and AAP  today grilled Petroleum Minister Dharmendra Pradhan and Maulana Azad National Urdu University chancellor Zafar Sareshwala during a panel discussion on whether insecurity has gained ground in the last two years of Modi government. The panel discussion was part of the the Mega Conclave 'Samvaad' organised by India TV.
Alleging that a sense of insecurity has gripped the people in last two years of Modi rule, AAP leader Kumar Vishwas said that the govt may belong to a party but it is responsible for the safety and security of 125 crore people of the country.
He further said that PM Modi should emulate leaders like former PM Atal Bihar Vajpayee.
"From Nehru to Indira, all of them had shown tolerance. Even Nehru had appointed five non-party members including Shyama Prasad Mukherjee as ministers," Kumar Vishwas said.
Congress leader and noted actor Raj Babbar also accused the government of propagating intolerance and pointed out that the people of this country gave the Narendra Modi government a huge mandate to take the country ahead on the path of development. However, he rued the fact that the government is more interested in digging graves.
" It is matter of concern that what happened in last two years has forced all opposition parties to come together, " he added.
However, Zafar Sareshwala, who is perceived to be close to Prime Minister Narendra Modi, countered Raj Babbar's charges and said," I will talk about the ground reality. The worst intolerance time for Muslims was before the Independence. Later it was between 80s and 90s and then in 2002. But  today, you can  roam freely in Ahmedabad without any sense of insecurity.
" Visit the railways station, bus, airport.. you will come to know what is tolerance and intolerance. I believe, the situation of tolerance has improved… there is absolute tolerance in our country. Yogi, Sakshi Maharaj are not the reflection, they count for  zero," he added.
Joining the debate, Delhi BJP MP Manoj Tiwari said that our government never dictated what you should eat and where you should go (Pakistan). Our Prime Minster believes in the mantra of 'sabka sath sabka vikas'. We never raised question on anyone's degree without any proof."
Jamiat Ulama-i-Hind General Secretary Maulana Mahmood Madani, however, said that it is too early to evaluate the performance of the government.
" The situation remains the same… nothing much has changed. Muslims are not here because of the governments. This country is secular because of its citizens, not because of the governments or political parties. The type of comments coming from the people who are part of this government are shameful. Muslims of this country don't need any government to feel secure," he added.
Kumar Vishwas further questioned Modi government's failure to facilitate the return of  Kashmiri Pandits and said, "In last two years why didn't you work for Kashmiri pandits' rehabilitation? Where is 56 inch chest? Mehbooba Mufti will not allow you to do this because she believes Afzal Guru is a martyr."
He also alleged that all the eight persons who raised slogans at the JNU were not arrested because they have the backing of Mehbooba Mufti.
When asked about the presence of poll strategist Prashant Kishore creating discontent in the Congress party, Babbar said,  Prashant Kishor is working as a professional within the party… Roping him within the party doesn't mean that there is a sense of insecurity in the Congress. The top leadership knows what they want from Prashant. He is not here to run the party, this is a wrong perception.
Attacking the Modi government, Babbar said "Narendra Modi stormed to power on the plank of  development. He should tell what he has done for the youth and the farmers in last 2 years. The Modi government has pushed back this country."
On provocative remarks of some BJP lawmakers, Kumar Vishwas said people like Sakshi Maharaj, Yogi Adityanath or Sadhvi Pragya, under PM Modi's eyes, are saying Hindus should bear four children  and it's not right." 
Manoj Tiwari retorted to Vishwas' claim, and reminded him that party has taken disciplinary action against such leaders but asked a counter question to the AAP leader.
"Can Vishwasji answer whether his party will take action against its members who call PM Modi an ISI agent or create relentless controversy over a non issue," Tiwari asked Vishwas.