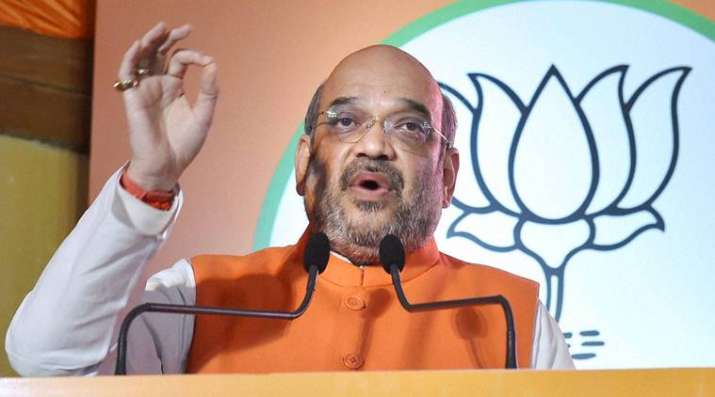 Overjoyed by its impressive show in Maharashtras local body polls, including the prestigious Brihanmumbai Municipal Corporation (BMC), the BJP today projected its victory as a precursor to its "wins" in the ongoing Assembly elections, including in Uttar Pradesh.
BJP President Amit Shah congratulated Maharashtra Chief Minister Devendra Fadnavis and state unit chief Raosaheb Patil Danve for the "unprecedented success".
Union minister Prakash Javadekar told a press conference that the partys performance in Maharashtra as well as Odisha local body polls and the losses of the Congress showed that the poor has now deserted its rival and is supporting policies of Prime Minister Narendra Modi.
"The pro-poor plank used to be with the Congress but is now with us. Its a big win. The results have showed that all sections of society are voting for the BJP. The results of Uttar Pradesh, Manipur, Goa and Uttarakhand state polls will be on the similar lines. The results in Punjab will also be surprising," he said.
The Congress had nothing but crocodile tears for the poor while the BJP government is working for them, he said. "We continue to move towards Congress-mukt Bharat (Congress-free India)," he said.
In Maharashtra, where local body poll results were declared today, the saffron party has gained a majority or emerged as the largest outfit in eight out of 10 municipal bodies, he said, adding that it has trebled its tally in the BMC where it fell short of the Shiv Sena, the largest party, by a few seats.
Taking a dig at its bickering ally Shiv Sena, he said the results are a lesson to those who said BJPs strength is not enough for winning even 40 seats.
Its a defeat for the critics of demonetisation and an evidence of peoples endorsement for the governments policies, he said while crediting Fadnavis and Danve for the win.
Another Union minister Piyush Goyal, who like Javadekar is also from Maharashtra, said BJPs win is the harbinger of its victory in the Assembly elections.

"Prime Minister Narendra Modi and Maharashtra Chief Minister Devendra Fadnavis, ably supported by Mumbai president Ashish Shelar, have demonstrated that the BJP is the true representative of good governance, transparency and development," he said.
This was reflective in the massive victory in Mumbai where BJPs tally has risen from 31 to 81 seats and other cities, he said.
"The people are with Modi and the results of Odisha followed by Maharashtra are a harbinger of an expected huge victory in Uttar Pradesh, where BJP will secure two-thirds majority," Goyal said.
BJP for the first time will rule local bodies in Pune, Pimpri Chinchwad and Nasik among others, Javadekar said.