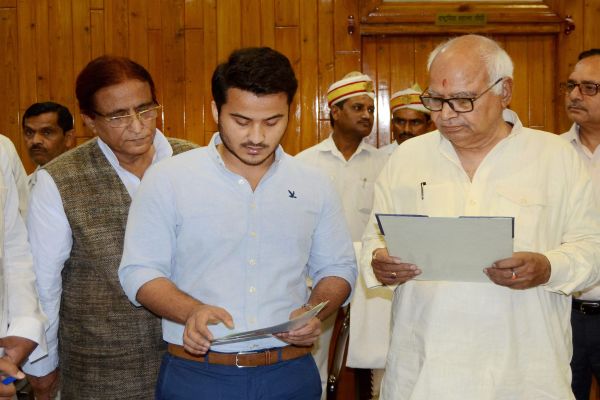 A sword of disqualification is hanging over the head of former Uttar Pradesh minister Azam Khan's MLA son Abdullah over charges that he possesses two Permanent Account Numbers (PAN) and that he furnished incorrect date of birth while filing his nomination for the Assembly election earlier this year.
In a report to the Election Commission, Rampur district magistrate has cited details of two PAN cards allegedly possessed by Abdullah Azam Khan with different dates of birth. The report, submitted today, states that Abdullah Azam's age as per old birth certificate and PAN card is January 1, 1993. The PAN was issued on August 30, 2013. 
Abdullah's date of birth as per the new PAN card, issued on March 03, 2015, which he had provided in the election affidavit is September 30, 1990, the report sent to EC says. The new PAN was made on the basis of birth certificate issued by Lucknow Municipal Corporation.
An assessment made by the Income Tax department also found discrepancy in the income provided by Abdullah. He had said that his income for the financial year 2016-17 was Rs 4,98,490 which was found to be incorrect. 
The probe was conducted after Akash Saxena, son of ex-minister Shiv Bahadur Saxena, had filed a complaint against Abdullah with the Income Tax department and the Election Commission. 
According to the complaint, Abdullah mentioned his date of birth as September 30, 1990 in his nomination papers for Suar Tanda Assembly segment while that mentioned in his income tax return for 2016-17 was January 1, 1993, district magistrate Awasthi said last week.
It was alleged that Abdullah had obtained two PAN against rules during the Samajwadi Party rule in UP, in which his father was a cabinet minister.
The complainant had claimed that Abdullah was below 25 years of age and expressed astonishment that the said count was ignored by returning officer.
The EC had instructed district officials to enquire and ascertain whether the information in Abdullah's nomination papers were fictitious and if he was eligible, according to age, to contest Assembly polls.