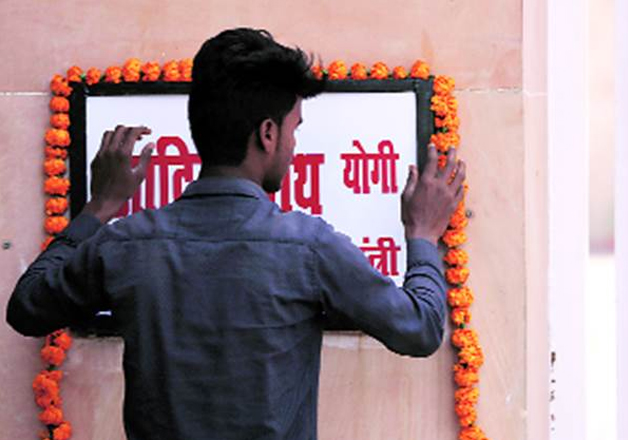 It has been four days since Yogi Adityanath was sworn-in as the 21st Chief Minister of Uttar Pradesh and 5, Kalidasa Marg, Lucknow – the official residence of the UP CM – is already undergoing major changes before he takes its possession.
After the "shuddhikaran" (purification) by Sanyasis who came all the way from Gorakhpur, the bungalow is now going through some major changes as per the likings of the new UP Chief Minister. 
Here are the five changes that the 5, Kalidasa Marg bungalow is undergoing: 
1.    A team of Hindu saints will be living permanently at the CM residence. Yogi Adityanath, who carries the tag of being a 'staunch Hindu', is himself a sanyasi and has been living in the company of saints since his childhood. 
2.    All the furniture and objects made of leather will be removed from the residence as it is believed to made from animal skin. 
3.    The residence will have a cowshed and 10 cows from Gorakhpur will be kept in it. Adityanath spends large chunks of time away from political parleys, tending to cows and performing "gau seva". Even the fulcrum of his social appeal revolves around reverence for the cow, considered holy in Hinduism.
4.    His favourite dog 'Raja' will be brought to the CM residence. Adityanath is an ardent animal and nature lover. He also has animal trusts in his name where his staff takes care of animals which are injured or left abandoned by their masters.
5.    A library is also being maintained at the residence. In his childhood, Adityanath was a bright student who loved to read books. His collection of books indicated his bend towards RSS. Even after leaving home and becoming a sanyasi, his love for reading didn't fade.