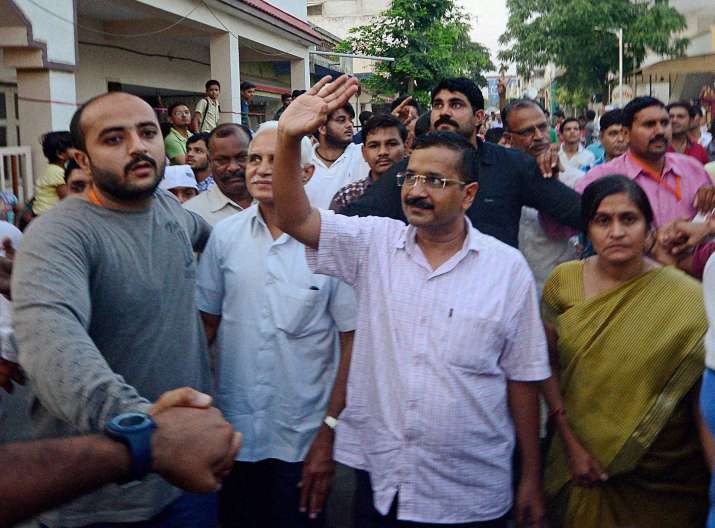 Aggressively wooing the politically dominant Patels, Aam Aadmi Party leader Arvind Kejriwal on Saturday sought the community's support to "clean" the state's politics and assured support to get "justice". 
Delhi Chief Minister was yesterday greeted with black flags at various places by some little-known groups who termed him traitor for demanding proof of Army's surgical strikes in PoK. 
On the second day of his four-day visit, Kejriwal met family members of four Patel youths who died during last year's OBC quota agitation. Before that, he addressed a gathering at the Patel-dominated Piludra village in Mehsana district and sought the community's support to "clean" Gujarat's politics. 
The village held special significance as the quota agitation started from here one year ago, he said. "Now I request you to start another movement from this village to clean the politics of Gujarat. We all must come together to fight against corruption and clean Gujarat's politics," he said. 
He also shouted the slogan "Jay Sardar - Jay Patidar" several times during the speech, and paid floral tributes to Sardar Patel's statue in Mehsana. 
He then visited Kaamli village in Unjha tehsil of Mehsana district where he met the kin of Nagjibhai Thakor, a police constable who committed suicide allegedly due to harassment from bootleggers and politicians last month. 
At this village, he also met the parents of Kanubhai Patel, a Patidar youth who died during quota violence last year. 
He then visited Umiya Mata temple, revered by the Patel community, at Unjha. Outside the temple, members of 'Rashtriya Patidar Sansthan' protested against Kejriwal over his remarks on the surgical strikes. 
Kejriwal landed in Ahmedabad in the afternoon and met family members of three Patel youths who died during the violence in August last year. 
Talking to reporters after meeting family members of Siddharth Patel, one of these youths, Kejriwal demanded more compensation for the kin of all the Patel youths who died during the quota agitation. 
He also termed these deaths as "murders". 
"Bullets were fired on unarmed people who were protesting in a peaceful manner. I believe it was an act of murder. Police do not fire on their own, they only follow orders. So strict action must be taken against those leaders who gave such orders," Kejriwal said. 
"I learned that state government gave Rs four lakh to family of each victim. This is nothing, as many families have lost their sole breadwinner. I demand that government give more compensation and take care of every family till their children stand on their feet," the AAP leader said. 
Prior to visiting Siddharth's family, he went to Ghatlodia area of city to meet the kin of Nimesh Patel. 
During his visit to Siddharth Patel's house in Vastral area, Kejriwal faced protest from the members of Sardar Patel Group, a prominent Patel outfit which was part of quota agitation alongwith Hardik Patel-led PAAS. 
SPG workers alleged that the AAP national convener had come with an eye on next year's polls, and showed him signs with message "Kejriwal Go Back". 
To avoid trouble, police took eight SPG members away from the spot before Kejriwal's arrival. They were released soon, Inspector Paresh Solanki of Ramol police station said. 
Kejriwal blamed BJP president Amit Shah for this. "Amit Shah is behind these protests. Just days ahead of our Surat rally on Sunday, a non-bailable arrest warrant has been issued against in-charge of Gujarat AAP, Gulab Singh. It shows BJP is too much scared of us," he said.
"BJP believes in the policy of persecution. Just like in Gujarat, they are trying to suppress our voice in Delhi. But the more BJP indulges in persecuting people, the more they will face retaliation from common people," Kejriwal said. 
He also met the parents of Swetang Patel, who died under mysterious circumstances in police custody last August. 
Swetang's mother Prabhaben handed Kejriwal a memorandum in which she alleged that her son was murdered by police but no action had been taken against the culprits even after a year. 
Kejriwal slammed the Gujarat government after the meeting. 
"This government has a dictatorial style. Though Swetang was murdered in the custody, no one has been punished yet. We demand that whoever is responsible for his death must be immediately arrested. If government does not take any cognisance, then people will take their revenge," he said. 
When media persons asked Prabhaben whether she thought Kejriwal's visit had political motives as he was visiting one year after her son's death, she answered in negative. 
"Kejriwal gave an assurance to us that he will fight to get justice for us. We have very high hopes from him. At least he visited us... Gujarat Chief Minister (Vijay Rupani) has not come yet," she said.
(With PTI inputs)