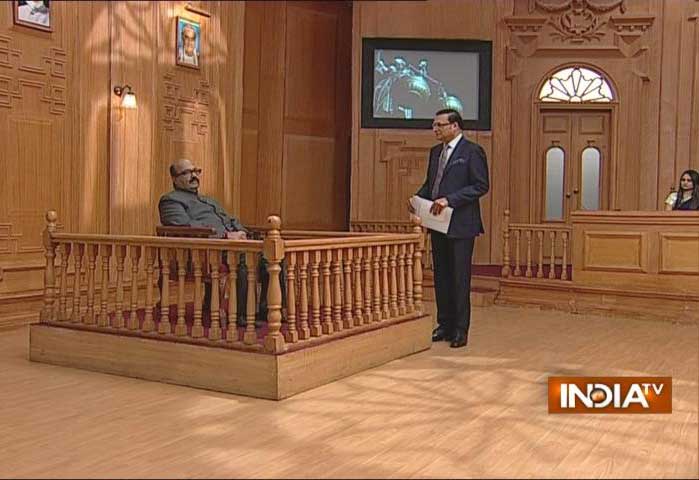 Expelled Samajwadi Party leader Amar Singh has praised Prime Minister Narendra Modi for his demonetization move, and added that he was not ruling out the possibility of his joining BJP in the near future.
Replying to queries from Rajat Sharma in the show Aap Ki Adalat, to be telecast tonight at 10 pm on India TV, Singh said: "I have not yet decided about joining BJP, but I am also not saying that I don't have plans (to join BJP)."
The firebrand MP, who was in the eye of storm during intra-family wranglings in Mulayam Singh's Samajwadi Party, praised PM Modi by saying: "Modiji may be an RSS pracharak, but the fact is, he won elections by a huge majority. He is not BJP's Prime Minister, he is the nation's Prime Minister.
"I can say one thing about Modiji, he has no family and no son and his politics is not that of dynasty (virasat). Even Mulayam Singh had no political 'viraasat' (dynasty), for that matter, both Modiji and Mulayam are similar in that respect. On the other hand Motilal Nehru, Jawaharlal Nehru, Indira Gandhi, Rajiv Gandhi, Rahul Gandhi, the series continues, of dynasty, politics and commerce (virasat, siyasat and tizaarat), but Modiji has no such legacy.
"It was Naresh Agrawal, who first said Modiji was a chaiwallah, This was repeated by Mani Shankar Aiyar, and Modiji made this an issue: can a chaiwallah become the PM or not. Abraham Lincoln used to polish and repair shoes, he became the (US) President. I also hail from a poor family.."
Asked pointedly by Rajat Sharma whether he was with 'chaiwallah' Modi or the sidelined leader Mulayam Singh, Amar Singh replied: "I shall always remain with the sidelined Mulayamji all my life.
"I have been 'Mulayamwadi', but the days of 'Mulayamwad' is over, Mulayamji is sidelined, he  has accepted 'Akhileshwaad', or 'putrawaad' (pro-son). Yet, Mulayam Singh had been and shall continue to be my brother, and Akhilesh shall continue to be my 'bhatija' (nephew). Akhilesh's supporters may urinate on my posters, hurl abuses at me, but I will never lower my level."
"I was expelled from my party (SP) twice, first by Mulayam Singh, and then by Akhilesh Yadav. In English, there is a proverb, once bitten, twice shy, Now it is twice bitten, four times shy. As far as BJP is concerned, I have still not decided whether to join, but I am not saying that I don't have plans (to join BJP)."
Amar Singh compared Modi's demonetization move with the call given by former PM Lal Bahadur Shastri during the food crisis in Sixties. "I remember during my childhood, Shastriji giving call to people to skip meals for a day during food crisis in the Sixties. We used to skip meals on Mondays. Similarly, at Modi's call can't the people of India bear difficulties for 50 days?."
"The notebandi (demonetization) move was opposed by those who had huge amounts of unaccounted money. I lierally live on plastic money. Yes, many poor people faced difficulties, and our PM wept for them. He sought 50 days' time from them."
Amar Singh revealed for the first time that it was Mulayam Singh Yadav who finally wrote to the Chief Election Commissioner to give the 'bicycle' symbol to his son Akhilesh Yadav.
"Let me tell you one undisclosed fact. Every father loves to lose at the hands of his son. Whatever the wranglings (jhagda), were all artificial. It is my firm conviction and I have information to this effect that Mulayam Singh secretly decided to give the bicycle symbol to his son Akhilesh, and on the day following the deadline, he wrote to the Chief Election Commissioner requesting him to give the symbol to his son. Yeh pakki baat hai (it is a fact). "
When Rajat Sharma pointed out he was revealing a big secret, Amar Singh replied: "I am disclosing this because when Mulayam Singh went to the Election Commission for the second time, he expressly told me not to accompany him. I did not go....Mulayamji might have felt that if he continued to be adamant ( he could lose the symbol)..This was the first case in which the symbol was not frozen, this was just impossible.
"Normally verifying all the affidavits (of MLAs supporting Akhilesh) would have taken at least three months. Akhilesh could have got the symbol, only after three months, because he had the numbers with him. ..Mulayam Singh single-handedly built the party, and he loved his bicycle symbol, he might have thought if he was going to lose the symbol, it should at least stay with his son."
Asked by Rajat Sharma whether the entire rigmarole of expelling leaders and then withdrawing, was all a 'drama', Amar Singh replied: "What did you see in the end? Shivpal Singh is sucking his thumb, Amar Singh stands expelled, petty leaders are saying I am an outsider. It was I who arranged the marriage of the couple (Akhilesh and Dimple), who cut the cake, and shoved a portion into my mouth, I became an outsider, and those petty people became insiders."
Amar Singh complained that UP chief minister Akhilesh Yadav, as party chief, has not yet sent letter to the Rajya Sabha chairman about his expulsion.
"At the SP delegates session, three resolutions were passed, Mulayam Singh was removed from post of party president, Shivpal Singh Yadav was removed from his post, and I stood expelled. And yet, Akhilesh, as party chief, has not sent letter to Rajya Sabha about my expulsion. I have sent a letter to Hamid Ansari (Rajya Sabha chairman) informing him of my expulsion and seeking to sit as an unattached member."
"I have also written to Chief Election Commissioner Naseem Zaidi about my expulsion, requesting him to inform the Rajya Sabha about this. If he does not, I shall approach the Supreme Court. I am not going to resign from my seat."
The expelled Samajwadi Party MP lashed out at the Congress saying it had a long history of ditching its political allies.
"The Congress pulled down ex-PM Chandrasekhar's government after 4 months, it pulled down H D Devegowda's govt after 15 months, it pulled down I K Gujral's government, it also withdraw support to former PM Charan Singh, it also ditched H N Bahuguna, and now it has joined hands with Akhilesh.
"The two youth leaders (Rahul and Akhilesh), are young and beautiful and they represent their respective dynasties. On the other hand, I pushed the Indo-US nuclear deal in Parliament, and had to sleep on the floor of Tihar jail when Sheila Dikshit was Delhi CM. It was her public prosecutor who said in court that I was a 'murderer of democracy'."
Amar Singh described his political foe Azam Khan as "slimy (gandhi), petty (do kaudi ka), anti-national". He said, Azam Khan had once described 'Bharat Mata' as 'daayan' (witch), and had openly said Kashmir was not part of India.
Amar Singh in Rajat Sharma's show Aap Ki Adalat will be telecast tonight (Feb 11) at 10 pm on India TV. The repeat telecasts will take place on Sunday at 10 am and 10 pm.