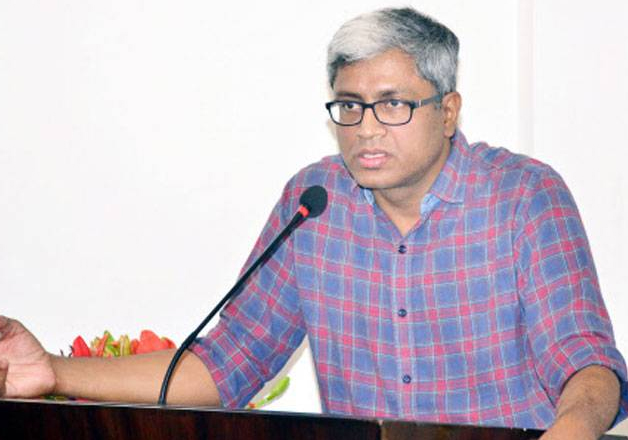 Aam Aadmi Party (AAP) leader Ashutosh today came forward in support of former AAP minister Sandeep Kumar saying there was 'nothing wrong in a man and a woman involved in consensual act' in a private space.
The AAP leader said in a blog post that the act was not coerced and was of a consensual nature, hence there was no 'wrongdoing'. The AAP leader's stand goes contrary to what Chief Minister Kejriwal had said.
 
"This video encompasses pictures of a man and woman indulging in a sexual act. The video clearly establishes that both individuals knew each other and consented to sex in a private space away from the public glare. The question then is that if two consenting adults are physically involved with each other, is it a crime?" he writes.
In a video message put out a day after news of Sandeep Kumar's sex scandal surfaced in the media, CM Kejriwal said he was disappointed with Kumar and that he had betrayed the AAP movement.
On the contrary, the woman, Ashutosh writes, "seen in the video is not coerced by any stretch of imagination. She has not even complained after the act to anyone. She has not gone public complaining of any wrongdoing. She has not registered any complaint either to the police or to the court. She has not even approached the family of the man."
Ashutosh further points out that Sandeep's wife did not express any 'divergent view on the conduct of her husband'.
Defending Sandeep, Ashutosh writes, "It's a case of two adults with their consent indulging in sex. Then why should this sex video be discussed at all? Why should it be made public? Why should it be linked to the character of the man and the party? Why should it create headlines? What wrong has the man done?"
Ashutosh went on to cite former PMs including Jawaharlal Nehru and Atal Bihari Vajpayee who had 'lived with their desires beyond social boundaries'.
"Pandit Jawahar Lal Nehru's reported affairs with many female colleagues were juicy gossip but it didn't spoil his political career. His relationship with Edwina Mountbatten is widely discussed. The entire world knew about it. Their affections continued till Pt. Nehru's last breath. Was it a sin?" he questioned.
"Atal Bihari Vajpayee was not married in true RSS tradition but he said in parliament that he is a bachelor not celibate. He openly lived with his college friend and society did not object even once," Ashutosh, who joined the AAP in January 2014, said in his letter.
Citing Mahatma Gandhi's relationship with Sarla Chaudhary, he writes, "Gandhiji had confessed that Sarla was his spiritual wife. Kasturba Gandhi was very disturbed. C Rajagopalchari and other senior leaders of the party had to intervene. They persuaded, pressured, cajoled Gandhiji to leave Sarla. Gandhiji in his later days slept naked with his two nieces to experiment with celibacy. Pandit Nehru had told him not to do so as the country would rise against him but Gandhiji did not budge."
Clarifying why AAP sacked Sandeep, he said, ""I agree that Sandeep Kumar is a public figure, and to be in the public glare one, has to pay a certain price. A public figure can't enjoy many discretions that an ordinary citizen can. A public figure probably cannot openly smoke, drink and flirt with the opposite sex, but he or she is entitled to his or her private space and he or she should not be chased there."