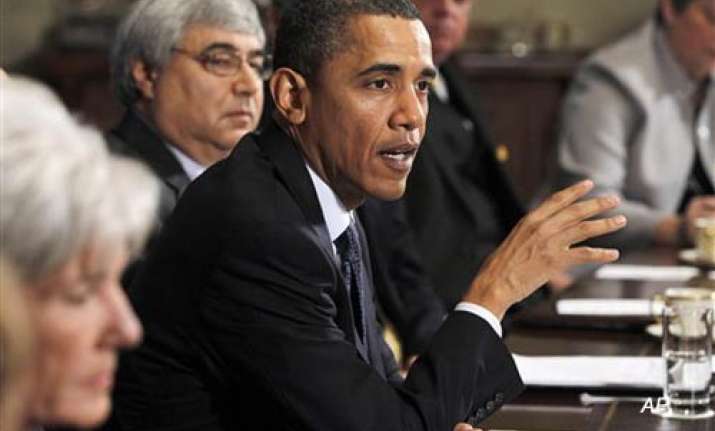 Washington, Nov 4: On the eve of President Barack Obama's maiden visit to India, the US today slapped sanctions on Pakistan-based terror groups Lashkar-e-Taiba and Jaish-e- Mohammad, besides targeting LeT commander Azam Cheema, a key operational figure in the 26/11 attacks.
The Treasury Department took action against Cheema, who helped train operatives for the 26/11 attacks and was the "mastermind" behind the July 2006 Mumbai train bombings, an official statement said.
Washington's action comes hours before Obama leaves on four-day visit to India, which has been pressing the US to lean on Pakistan to take strong and transparent action against the terror groups operating from its territory.
Obama's first halt will be Mumbai where he will stay at Taj hotel, the scene of audacious attacks by LeT terrorists in 2008. The attacks at Taj and other places in Mumbai had left 166 people dead and over 300 injured.
The department targeted financial and support network of the two terror groups. It also acted against Hafiz Abdul Rahman Makki, head of LeT's political affairs department, for acting for or on behalf of LeT.The US also targeted Al Rehmat Trust, an operational front for JeM and the group's top leader Mohammed Masood Azhar Alvi.
"LeT and JeM have proven both their willingness and ability to execute attacks against innocent civilians," said Under Secretary for Terrorism and Financial Intelligence Stuart Levey.
"Today's action - including the designation of Azam Cheema, one of LeT's leading commanders who was involved in the 2008 and 2006 Mumbai attacks - is an important step in incapacitating the operational and financial networks of these deadly organizations," he said.
Cheema is a key commander in the operations of LeT which has been held responsible for the November 26, 2008 terrorist attacks in Mumbai. The group has been closely associated with Osama bin Laden's al-Qaeda network.LeT was designated as a terrorist outfit in May 2005.
Cheema has also been described as LeT's surveillance or intelligence chief and has been involved in LeT's training activities, specifically training LeT members in bomb making and skills needed to infiltrate India. PTI