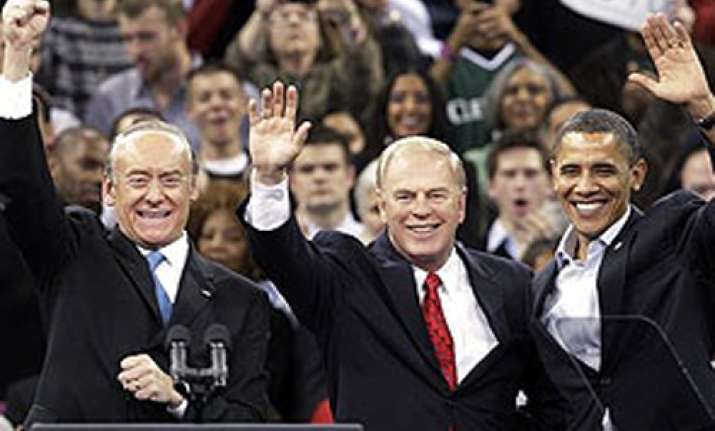 Washington :  Republicans in the US are positioned to wrest control of the House of Representatives in Tuesday's elections, the wind at their backs as they try to capture the 40 seats they need to claim the majority and potentially many more.
Democratic candidates face a poisonous cocktail of public disenchantment with the economy, disappointment in President Barack Obama and anger at government fuelled by the conservative tea party movement.
Few Democratic incumbents feel safe, least of all the 55 who seized Republican seats during the past two elections, as Republicans seek to catch a historic wave. As many as 100 races were competitive as the balloting approached, fewer than a dozen of them for seats now held by Republicans.
"We'll get to the majority, and if a wave materialises, then this is a hurricane, tornado, tsunami all in one with a cyclone to top it off," said Rep. Greg Walden of Oregon , the No. 2 Republican in charge of House campaigns. "The winds have never been stronger."Republicans, he said, are telling candidates in scores of tight contests throughout the country, "Don't let up."
Democrats were in crisis-control mode, struggling to limit what all acknowledged were inevitable losses. They were bracing for grim confirmation of history's traditional mid-term election curse: The party in power usually loses congressional seats, and prospects this year were made even worse by the sour economy.
"It's a very challenging environment. We've always known it was going to be a challenging environment, and anytime you have a soft economy it's very difficult," said Rep. Chris Van Hollen of Maryland , the Democratic House campaign chief.
Still, Van Hollen said he held out hope that Democrats could hang onto power, if only narrowly. "We will retain the majority," Van Hollen said, citing 'promising' early voting results from some states that he argued were evidence that his party's supporters were turning out in larger-than-expected numbers, and polls suggesting that others could still be swayed to vote Democratic.
Democratic candidates were being instructed to make a last pitch to persuade voters not to turn the reins over to Republicans.
"We're telling them to be everywhere in their districts, talking to voters about that very clear choice... between continuing the progress we're making or returning to the days when the big-moneyed special interests had their way in Washington at the expense of average Americans," Van Hollen said.AP