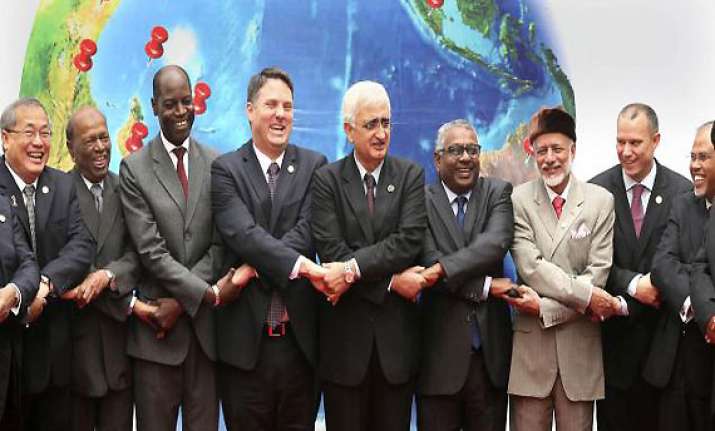 Gurgaon, Nov 2: The U.S. was on Friday inducted as a dialogue partner in the 20-nation Indian Ocean Rim-Association for Regional Cooperation (IOR-ARC) grouping, following hectic back-door diplomacy led by India. 
The decision to induct the U.S. as the sixth dialogue partner was taken at the Ministerial Meeting of the grouping in Gurgaon.
The other five dialogue partners are — China, Japan, the U.K., France and Egypt.  
The induction process came following a request from the U.S., which had applied for the status of a dialogue partner a few months back. The U.S. had also taken up the matter with India, the current Chair of the Association, during the Indo-U.S. Strategic Dialogue in June in Washington.  
A document containing the U.S. request was then sent out to all member states about two months back seeking their comments.  
While India was open to the U.S. request, Iran, a member-country, had expressed "some concerns" over induction of Washington.  
However, there was hectic back-room diplomacy which saw India pushing the U.S. case and working overtime to work out a consensus decision.  
The U.S. is keen to get a footing in the key grouping, not because of economic reasons but more due to its re-engagement with Asia and to push for its 'pivot to Asia' policy.  
Official sources said that since the grouping is of considerable economic and strategic importance, the U.S. wanted to be part of it.  
The prominent members of the grouping, which also saw entry of a new member- Comoros Islands, an archipelago of four islands and several islets located in the western Indian Ocean, are India, Australia, South Africa, Oman, the U.A.E., Thailand, Singapore, Iran, Kenya, Indonesia, Mauritius and Malaysia.  
Incidentally, many of these countries share close security ties with the U.S.  
Indian Ocean is vital for the transportation of oil and conduct of global trade.