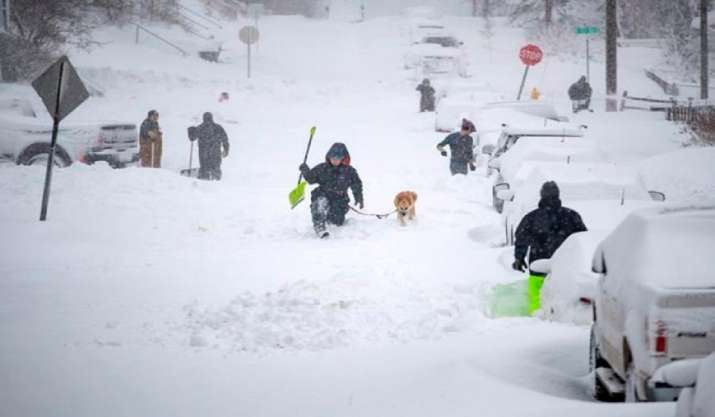 A seemingly endless winter storm that hindered travel across most of the country over the long holiday weekend is delivering a last wallop as it swoops through the Northeast, dumping heavy snow, shuttering hundreds of schools and bedeviling commuters in the region Monday.
The storm dropped more than a foot of snow on parts of the region late Sunday and Monday and could bring 10 to 24 inches (25 to 60 centimeters) total by Tuesday from Pennsylvania to Maine, forecasters said. Heavy snow was also expected in the Appalachian Mountains down to Tennessee and North Carolina.
Massachusetts Gov. Charlie Baker urged drivers to use caution during the Tuesday morning commute when the storm was expected to be at its height with snow falling at 1 to 2 inches an hour in some places. Boston Mayor Marty Walsh said city schools were canceling classes and afterschool activities Tuesday.
"It's moving very slowly, so the snow is just going to continue through the day," National Weather Service meteorologist Jennifer Vogt said Monday.
ALSO READ | 13 civilians among 19 killed in air strikes in Syria
ALSO READ | Musharraf hospitalised following cardiac problem, blood pressure issues