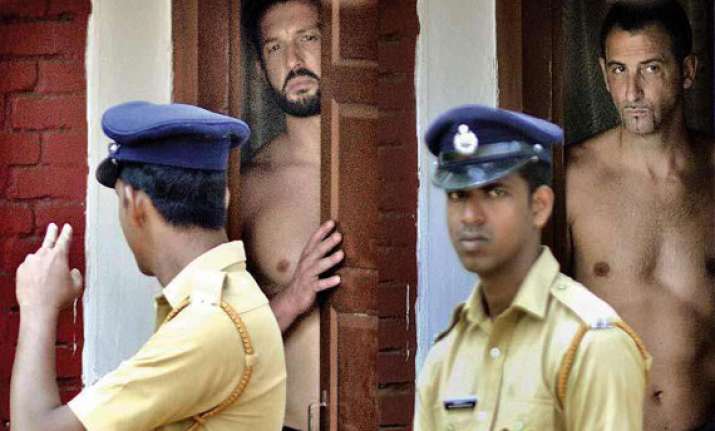 United Nations: The long-standing issue of two Italian marines being tried by India is prompting tensions between the two countries and they should try to find a "reasonable" and "mutually acceptable" solution to it, the UN has said.
"The Secretary-General is concerned that this long-standing matter between Italy and India remains unresolved and is prompting tensions between two friendly and important Member States of the Organisation," UN Chief Ban Ki-moon's spokesperson Martin Nesirky told reporters.
Nesirky's remarks came as European Union foreign policy chief Catherine Ashton said after a UN Security Council meeting here yesterday that the EU is "deeply worried" about the two marines Massimiliano Latorre and Salvatore Girone being prosecuted in an Indian court under anti-terrorism legislation.
Marines Latorre and Girone shot dead two fishermen off the Kerala coast in February 2012, sparking diplomatic tensions between India and Italy. The marines are now staying in the Italian Embassy in New Delhi awaiting trial.
While the two marines would not face the death penalty, India has insisted that the marines would still be prosecuted under the anti-piracy law under which they could face up to 10 years in jail.
Nesirky said Ban feels it is important that India and Italy "seek to come to a reasonable and mutually acceptable resolution" over the issue.
"He is concerned that the matter may have implications for wider common efforts and collaboration around matters of international peace and security, including anti-piracy operations," Nesirky added.
Ashton, who met the UN Chief at the world body's headquarters, said the EU is in contact with India and is working "very very closely" with Italian colleagues.
"We are deeply worried about the situation where the marines might be taken to court and prosecuted under anti-terrorism legislation," Ashton said.
Even though Nesirky said the Secretary-General had spoken by telephone with Italian Foreign Minister Emma Bonino on Wednesday, he did not give details of their conversation.