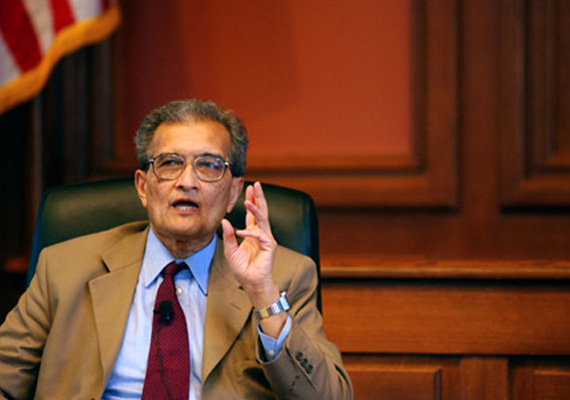 Washington, Feb 12: India-born Nobel laureate Amartya Sen will be felicitated by U.S. President Barack Obama for his efforts to increase the understanding of how to fight hunger and poverty.

Mr. Barack Obama would felicitate Mr. Sen, 78, with the 2011 National Humanities Medal, along with others, the White House announced.

The White House said the award is being given to Mr. Sen for his insights into the causes of poverty, famine, and injustice.

"By applying philosophical thinking to questions of policy, he has changed how standards of living are measured and increased our understanding of how to fight hunger," the White House said as it announced the list of awardees.

The First Lady would also attend the awards ceremony for the 2011 National Medal of Arts and National Humanities Medal scheduled on Monday.

The 2011 National Medal of Arts would be awarded to Will Barnet, Rita Dove, Al Pacino, Emily Rauh Pulitzer, Martin Puryear, Mel Tillis, United Service Organization and Andre Watts.

The 2011 National Humanities Medal will be given to Kwame Anthony Appiah, John Ashbery, Robert Darnton, Andrew Delbanco, National History Day, Charles Rosen, Teofilo Ruiz, and Ramon Saldivar, besides Amartya Sen.

Mr. Amartya Sen won his Nobel Prize for economics in 1998 for his studies of the roots of poverty.