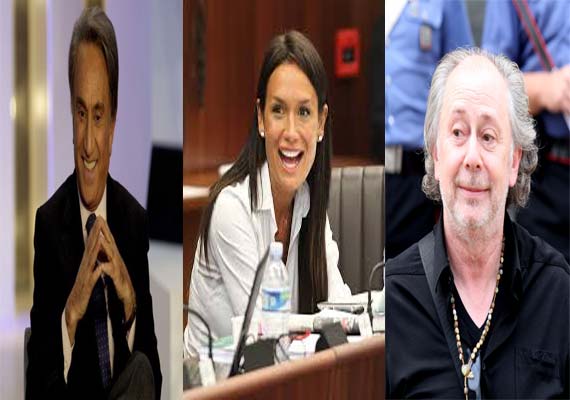 Rome, July 20:  A court in Milan on Friday sentenced three associates of Silvio Berlusconi to jail terms and bans from public office after they were found guilty of procuring prostitutes for the former prime minister's controversial "bunga bunga" parties, media reports said.
TV news anchorman Emilio Fede and showbusiness agent Lele Mora were each given seven year terms and life bans from public office, while showgirl-turned-politician Nicole Minetti was sentenced to five years in prison as well as five years out of public office, Xinhua reported.
The three were facing charges of encouraging prostitution and procuring dozens of young women for the 76-year-old Berlusconi when he was prime minister.
However, there are two more levels of appeal before the sentence would become final.
Dozens of showgirls have described sex parties that young women were paid to attend at Berlusconi's villa in Arcore near Milan.
The former premier, who has always denied any wrongdoing, has faced some 30 corruption and fraud trials but convictions have always either been overturned on appeal or the statute of limitations ran out.
The media tycoon and three-time prime minister resigned at the end of 2011 over the scandals.
Last month, Berlusconi was given seven years in jail for paying for sex with 17-year-old former dancer Karima El Mahroug, better known as "Ruby the Heartstealer", BBC reported.
Both Berlusconi and Mahroug deny having had sex, and she says she has never been a prostitute. Berlusconi is appealing the jail term and the lifetime ban from politics.
Mahroug is one of the women that the three associates in the current trial are alleged to have procured.
The former premier insists the alleged sex parties were actually dinners where women guests performed "burlesque" dancing.