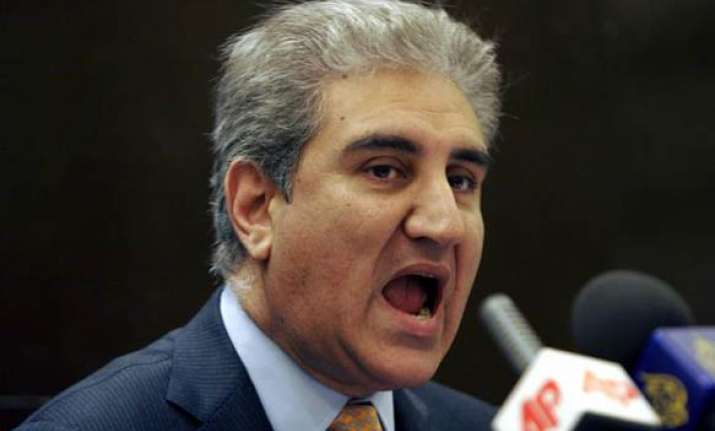 Islamabad, Feb 14: Apparently stung by his own ruling PPP's stonewalling, former minister Shah Mahmood Qureshi has pleaded with the leadership for reasons for divesting him of the key portfolio of the foreign minister.
Claiming that his heart was "broken" by the treatment meted out to him by the Pakistan People's Party leadership, Qureshi asked what were his mistakes?
"My heart is broken. I have gone and pleaded with the leadership. I have asked please, please tell me why I am not being given the portfolio of the foreign minister? I have asked them what is my mistake? I need to know. I am not above scrutiny, but what wrong did I commit?" Qureshi asked.
Qureshi said he was also "absolutely devastated" by criticism from Information Minister Firdous Ashiq Awan, who had linked his refusal to join the cabinet with an arrest warrant issued by a court against former President Pervez Musharraf in connection with Benazir Bhutto's assassination.
Awan has sought to imply that Qureshi wants to "save" Musharraf and that he is a "personal friend" of the former military ruler.
"I cannot believe this. It is extremely sad that this is coming from someone who was recently with the (PML-Q). In fact, let the records speak for themselves," Qureshi told The News daily.
Qureshi skipped the swearing-in ceremony for the new cabinet on Friday after he learnt he would not be reallocated the foreign affairs portfolio.
His subsequent comment to the media that a US official arrested for killing two Pakistani men did not have diplomatic immunity has also angered the PPP's top leadership.
The former minister said the advice he received from his legal team and senior officials at the Foreign Office was that US official Raymond Davis did not enjoy unlimited immunity under the law.
"How could I (say he had immunity) when the official record did not certify Davis? How could he be handed over to the Americans?" he asked.
Qureshi refuted media reports that he did not attend a meeting between the President and a US Congressional delegation that had demanded the release of Davis.
"This is not correct.I was there and I told them that they are mishandling the issue. All this is a matter of record," he said. PTI