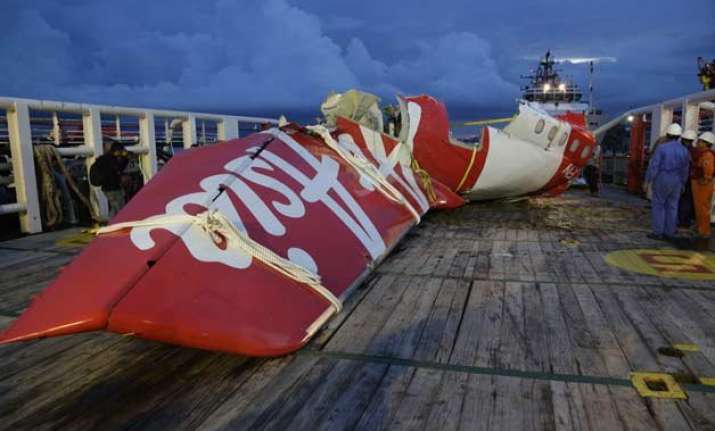 Pangkalan Bun: The tail of the AirAsia plane that crashed into the Java Sea two weeks ago was brought ashore in Indonesia on Sunday.
The Crest Onyx recovery vessel sailed into Kumai port, carrying the wreckage, with the words "AirAsia" clearly visible across it.
The tail's excavation was a major success in the slow-moving hunt for victims and wreckage from Flight 8501.
The red metal chunk was brought to the surface from a depth of about 30 metres (100 feet) on Saturday, using inflatable balloons.
The vertical stabiliser was still largely intact, but the attached jagged fuselage was ripped open and held a tangled mess of wires.
The find, however, was tinged with disappointment when the black boxes were not found still attached.
Their beacons emit signals for about 30 days until the batteries die, meaning divers have about two weeks left before they go silent.
Searchers were on Sunday closing in on loud pings detected and it was believed that the devices would soon be recovered.
Three Indonesian ships detected the signals, officials said, adding they were located around 3.5 kilometres (two miles) from where the aircraft's rear was discovered.
Officials earlier in the day said that two separate pings had been detected.
The Directorate of Sea Transport said in a statement that the signals were intense in one area, and that the recorders were believed to be lodged beneath wreckage.
If divers were unable to free it, all of the debris would be lifted, the statement said.
In addition, sonar on Sunday detected a large object in the same vicinity as the pings.
Officials initially were hopeful it was the main section of the Airbus A320's cabin, but Soelistyo said divers confirmed it was instead a wing and debris from the engine.
Search efforts have been consistently hampered by big waves and powerful currents created by the region's rainy season.
Silt and sand, along with murky river runoff, have created blinding conditions for divers.
Other officials cautioned it was too soon to know whether the sounds were coming from the black boxes, which detached from the tail when the plane plummeted into the sea on 28 December, killing all 162 people on board.
The recorders are key to understanding what caused the aircraft to go down.
While the cause of the crash is not yet known, bad weather is believed to have been a factor.