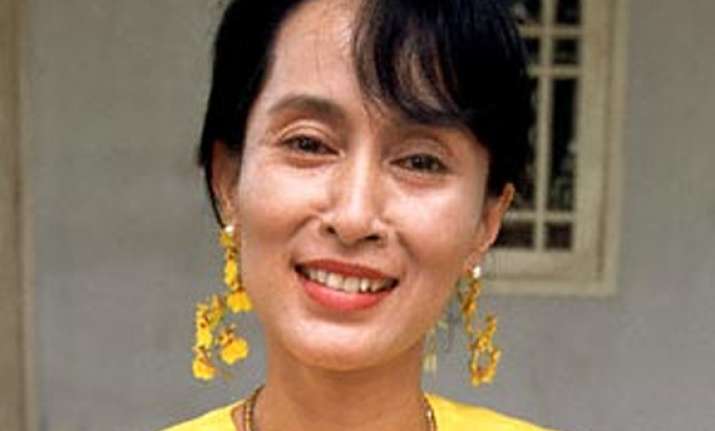 London, Jun 19: It was a homecoming of sorts for Myanmar democracy icon Aung San Suu Kyi as she arrived here on a tightly-packed four-day visit that began with a seminar on the idea of rule of law at the prestigious London School of Economics (LSE) on her 67th birthday today.  
Britain's establishment has adopted her as one of their own, extending her the rare honour of addressing both houses of Parliament, and scheduling meetings with members of the royal family and political leaders, including Prime Minister David Cameron.
After the LSE seminar this morning, Suu Kyi left for her "beloved Oxford" where she will be reunited with her family.  She was given a standing ovation at the LSE seminar, seemingly relaxed in the academic environs, where she emphasised on rule of law as the single most important requisite to resolve problems facing her conflict-torn country.
Suu Kyi studied in Oxford, and lived there with her husband, the late Michael Aris, and their two sons for several years until 1988, when she left for Myanmar to look after her ailing mother, never to return, until today.  
As hundreds of students and staff sang "Happy Birthday" to her, LSE presented her a gift, a framed photograph taken in London of her father, Aung San, considered the hero of Myanmar independence, who was assassinated in 1947.  
Asked where she drew her strength from to carry on the struggle for democracy over nearly 25 years, she remarked: "I find great support and warmth from you, the people, who welcome me as your own...but of course, I do have a stubborn streak in me".
Suu Kyi's visit has also attracted some criticism, with Cameron accused of "hijacking" her and using her as a "political shield".
Amidst her packed schedule, Suu Kyi will spend much time with Cameron in his constituency of Witney, Oxfordshire, where she is expected to visit his MP's office and accompany him on a walk in the sylvan countryside.
However, a spokesman for the Prime Minister denied he was using the trip for party political purposes; pointing out that Suu Kyi would also be holding meetings with senior Labour figures Gordon Brown and Ed Miliband.  
He said: "She was keen to spend some time with him in his constituency to see what life is life as an MP. It is not bringing us a photo opportunity. Aung San Suu Kyi is very much in charge of her diary. Visiting the Prime Minister in his constituency is very much something she requested to do".  
Her tight schedule, drawn up by the Foreign Office, has reportedly angered members of the All-Party Group for Democracy in Burma, along with charity organisations and human rights groups.
Suu Kyi is scheduled to receive the honorary doctorate in Civil Law awarded by the University of Oxford tomorrow, and also deliver an address to the university.
She will also receive the "Freedom of the City" honour from the Oxford City Council.