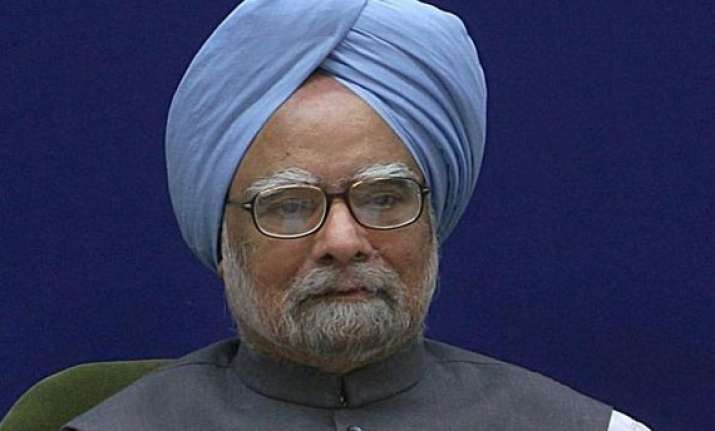 New Delhi: Sri Lanka on Sunday  said it would like Prime Minister Manmohan Singh to attend the upcoming CHOGM meeting in Colombo despite opposition from political parties in Tamil Nadu on his participation on the grounds of human rights violations of Tamils there.
Visiting Sri Lankan Foreign Minister G L Peiris expressed his country's keenness in this regard on the eve of his meeting with the prime minister here to extend an invitation to him on behalf of President Mahinda Rajapakse.
"I am here basically for the purpose of extending an invitation(to PM)." he told reporters.
"We would very much like him to be there. It is very important," Peiris said while noting that the meeting was happening in an Asian country after nearly quarter of a century.
Asked about the opposition by political parties in Tamil Nadu, Peiris said, "It is upto India to decide but we will like participation of India at the highest level."
Both ruling AIADMK and Opposition DMK in Tamil Nadu have mounted pressure on the Centre demanding that India boycott the Commonwealth Heads of Government Meeting (CHOGM) to be held in Colombo this November.
DMK president M Karunanidhi yesterday warned of rail blockades, black flags on houses and commercial establishments across the state if the prime minister did not declare that India would not participate in the CHOGM meet.
In a statement, Karunanidhi, referring to Peiris' proposed visit to India had said, "The prime minister without neglecting Tamils' demand should categorically and openly declare that India will not participate in the meet."
He said the Lankan government has lost credibility in the international forum and it is trying to dilute the provisions of 13th amendment to its constitution.
The 13th amendment in the Sri Lankan constitution was carried out with Indian backing in the 1987 to ensure autonomy to provinces and by extension to the Tamils in the island's north and east.
But the regime of President Rajapaksa has threatened to dilute its provisions, causing dismay in India.
"At the very least, India must stay away from the CHOGM to be held in Colombo and, thereby, exert pressure on Sri Lanka to do justice by its hapless, much exploited Tamil Minorities," Chief Minister Jayalalithaa had said in a letter to the prime minister.
Peiris also accused the international community of lacking "objectiveness" and criticizing his country on the achievements post-conflict in the last four years.
"The country should be given space and time to move forward with the delicate reconciliation process without excessive pressure from outside," he said.
"It is not a teacher and student, one side lecturing other. No one has monopoly on wisdom in these matters. It is attitude which is important," he asserted.
Peiris also said it does not mean that international community has no role and that Sri Lanka was asking people to agree with it "uncritically and unreservedly".
However, when specifically asked if India also lacked in objectiveness while asking Sri Lanka to expedite reconciliation process, the minister said, "I was not talking about India in particular but there is certain lack of objectivity because these standards are not applied to any other country."  
On the issue of Indian fishermen being apprehended by Sri Lankan forces, he said this followed because their actions were assuming "serious" proportions.
Indian fishermen taking away resources was acquiring political aspect and his government is under strong pressure to stop it, he said. Therefore, it had become important to come up with a strong deterrent and at least taking resort to judicial process, he added.
Recently, Sri Lankan High Commissioner Prasad Kariyawasam was summoned  to the Ministry of External Affairs and issued a formal démarche on the issue of Indian fishermen languishing in Sri Lanka's jails for months.
Asked if Sri Lanka was negotiating civil nuclear deal with India, Kariyawasam said, "We are negotiating a comprehensive nuclear corporation agreement with India and it is for peaceful nuclear cooperation which also includes safety of nuclear installations."
Ahead of his meetings with Indian leadership tomorrow, Peiris also emphasised on the robust bilateral ties, saying sometimes there can be differences but important thing is to have a mechanism for dialogue.
Peiris, who will present the invitation to the Prime Minister tomorrow, will also hold talks with his Indian counterpart Salman Khurshid on various key issues, including on the 13th Amendment of the Sri Lankan constitution, carried out with Indian backing in 1987 to ensure autonomy to provinces and by extension to the Tamils in the island's north and east.
The Rajapaksa government has threatened to dilute its provisions, causing dismay in India, which apart from demanding Sri Lanka to expedite the reconciliation process also categorically asked that government not to dilute a key constitutional provision that promises autonomy to the Tamil minority.
The Northern Province, which has maximum Tamil population, is scheduled to go for polls next month and Peiris today assured that if Tamil National Alliance (TNA) comes to power, it will have all the powers like any other provincial government in Sri Lanka.
Asked about his country's ties with China and Pakistan and their impact on India,  Peiris said no ties are exclusive and Sri Lanka will never allow itself to be used to the detriment of India's interest.