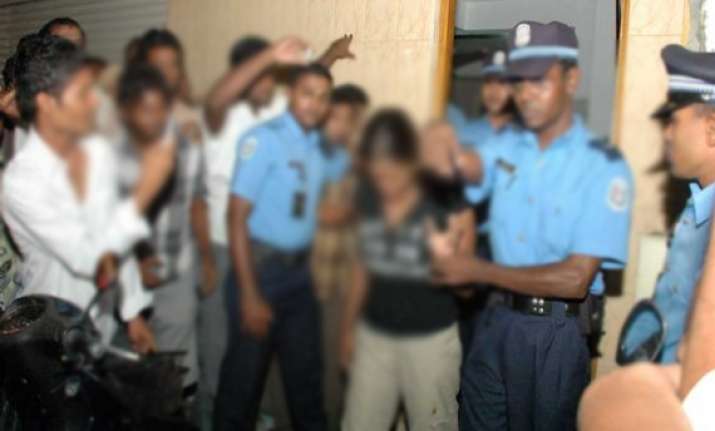 Sri Lanka, Jun 30:
Sri Lankan police have sealed off an office that runs independent and pro-opposition news websites, arrested nine workers and seized computers and documents, the government and a media rights group said in one of the world's most dangerous countries for journalists.
A government statement said that "police officers, acting on a court order, searched and sealed off the office" on Friday and that the "websites had published erroneous information about people recognized in society" and had "tarnished Sri Lanka's image."
The two websites the office operated are the independent www.srilankamirror.com and www.srilankaxnews.com , which belongs to the opposition United National Party, party member Mangala Samaraweera said.
He said the nine detained people appeared before a magistrate on Saturday and were released on bail.
The police action shows that "the government has not stopped its campaign to harass and intimidate the independent media institutions and journalists in Sri Lanka," said Gnanasiri Kottigoda, president of the Sri Lanka Working Journalists Association, a media rights group.
"We see this as a move to silence the independent media in Sri Lanka," he said.
More than a dozen police officers surrounded the office in Kotte, on the outskirts of the capital, Colombo, and searched the premises for about three hours Friday, Kottigoda said.
They seized computers and documents and drove the nine workers, including the editor of one of the websites, away in police vehicles, he said.
The government statement said the office had posted false information on the Internet.
However, Samaraweera said the move was part of a "witch hunt against the free media" and accused the government of trying to suppress "dissenting voices."
He said his party's website had exposed corruption and other wrongdoing by the government, triggering Friday's raid.
Last year, authorities blocked www.srilankamirror.com and four other websites over alleged character assassination, and the action is still in effect for the four others.
After www.srilankamirror.com filed a case in the Supreme Court, the Telecommunication Regulatory Authority agreed to unblock the website on condition that it would not provide links to sites that are blocked or unregistered.
The blocking of the websites drew criticism from media rights groups and other countries, including the United States.
The Committee to Protect Journalists said Sri Lanka was the fourth most dangerous country for journalists in 2010.
Amnesty International says at least 14 Sri Lanka media workers have been killed since the beginning of 2006.
Media rights groups say the government has failed to properly investigate attacks on journalists and media institutions.