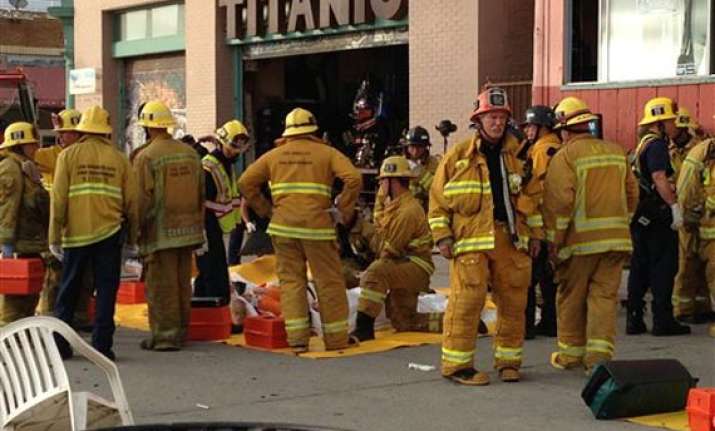 California, Aug 4: A driver plowed into a crowd walking along one of the most popular beach boardwalks in Southern California on Saturday evening, killing one person, injuring 11 others and leaving behind a chaotic scene strewn with bleeding victims, officials and witnesses said.
Footage from a CCTV television camera filmed on a mobile phone by an AP print reporter, shows the car driving into crowds and knocking over barriers outside Kendal caf.
The footage illustrating the incident is currently being reviewed by police as evidence and was also shown to AP by Dennis Walker, owner and manager of Kendal caf.
The victim died at a hospital a few hours after the crash at the Venice Beach boardwalk, Los Angeles police said.
At about the same time a person was taken into custody for questioning and a car was impounded in neighbouring Santa Monica, and detectives were determining if both were the ones they'd been seeking, police said.
Police would give no details on the identity of the victim or the person of interest.
The sandy-haired man drove the powerful midsized Dodge Avenger into vendors and tourists as they walked along the paved pedestrian walkway of the storied boardwalk.
Police and witnesses said bloodied victims and knocked over mannequins and lawn chairs were left in the wake.
Witnesses told firefighters it appeared the man was in control of his car as he ran people down, but police said they did not know his motives.
Ten of the 12 victims were taken to hospitals, a city Fire Department spokesman said. Of the 11 survivors, one was in critical condition and two in serious condition, he said.
The Venice boardwalk is a cultural hub in a part of Los Angeles known for its circus-meets-gritty-city eccentricities.
The 1.5-mile ribbon of asphalt that runs along the sand a few hundred yards from the ocean is home to galleries, restaurants, tattoo shops, skateboard parks and the famous outdoor weight room known as Muscle Beach.
It can draw as many as 150,000 people on summer weekends.