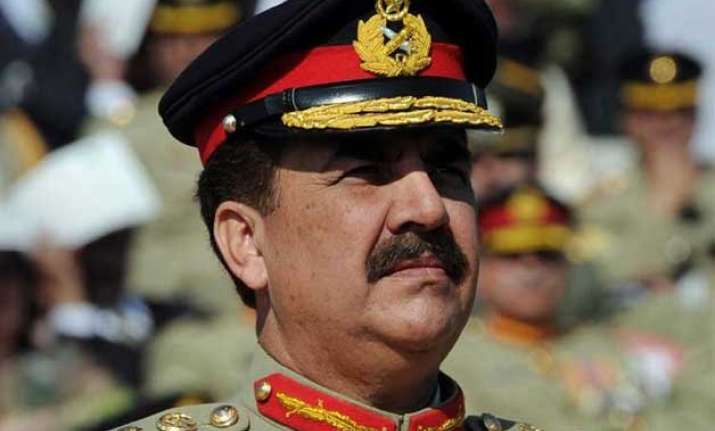 Islamabad: Pakistan's army chief Gen Raheel Sharif on Friday dismissed concerns that the special courts would strengthen the role of the powerful army, saying it was the need of "extraordinary times" and not the military's desire.
Gen Sharif made the remarks while addressing a meeting of political leaders at the PM House, convened by Prime Minister Nawaz Sharif to allay fears that the special courts headed by military officers might be used against politicians.
The political leaders and judges fear that the special courts would strengthen the role of the already powerful army in Pakistan where the military has ruled for decades. Army spokesman Major General Asim Bajwa tweeted that Gen Sharif said army was not pushing for the special courts.
Gen Sharif admitted that Pakistan has reached critical stage in campaign against terrorism but said the military will win the war decisively. He said Pakistan "can't even imagine to lose (it) as state or society". He called upon the politicians to take action as "our today's decisions will determine the destiny of our nation". He said that the entire nation should be focused on their implementation of plan to root out militancy.
Prime Minister Sharif last week announced to set up special military courts across Pakistan to hear terror-related cases in the wake of the Peshawar school massacre last month by the Taliban that killed 150 people including 134 students.
Pakistan People's Party, Pakistan Tehreek-i-Insaf and several other parties expressed concern over the setting up of special courts through amending the constitution. Former president and co-chairman of PPP Asif Ali Zardari expressed strong reservation on such courts. Former chief justice Iftikhar Chaudhry had termed the proposed plan "unconstitutional".
The Supreme Court had declared in 1999 the setting up of military courts as unconstitutional and illegal. Pakistan is struggling to come up with an adequate response to deal with militancy after Peshawar massacre.