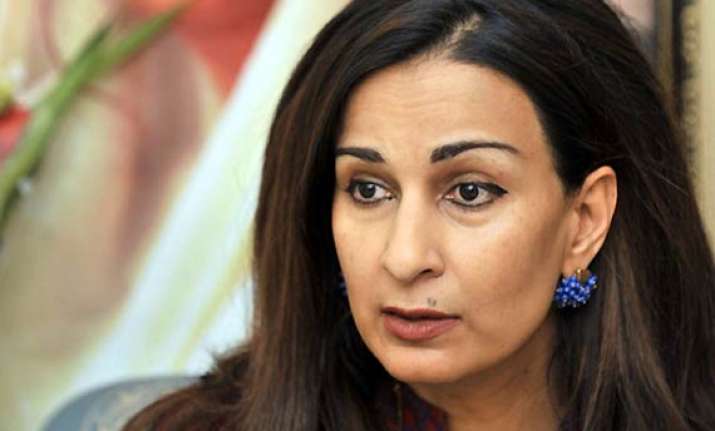 Islamabad, Nov 23: In a surprise choice, Sherry Rehman, a senior politician who earned the wrath of militants for her opposition to Pakistan's harsh blasphemy law, was today named to the key post of the country's Ambassador to the United States.

50-year-old Rehman will succeed Husain Haqqani who was forced out of office yesterday following his suspected involvement in a memo handed over to the US, seeking support for President Asif Ali Zardari to avert a military coup after the American raid in which Osama bin Laden was killed on May 2.

The controversy over the memo dubbed by the media as "memogate" cost Haqqani his job, in a victory for the powerful military.

Rehman, a former federal information minister and a well-known journalist, was a senior politician belonging to the ruling PPP. She was close to former prime minister Benazir Bhutto and also regarded as close to Zardari although she resigned in 2009 following differences with him over dealing with the media.

Rehman had been involved in track-II diplomacy with India and attended last month's discussions in Bangkok between non-official representatives of India and Pakistan.

She has been a strong advocate of women's and minority rights and faced death threats for her calls to reform the country's blasphemy law.

"The Prime Minister is pleased to appoint Sherry Rehman as the new Ambassador to the United States," said the spokesman for the Prime Minister's office, Akram Shaheedi.

Rehman has played a key role in foreign policy issues, including those relating to Afghanistan, through her NGO 'Jinnah Institute'.

Her appointment as Ambassador to the US indicated that President Zardari and the PPP want to retain influence on Pakistan-US relations by having an independent-minded envoy, analysts said.

Rehman was elected to the National Assembly or lower house of Parliament twice, in 2002 and 2007, on reserved seats for women.

Earlier reports had suggested that Foreign Secretary Salman Bashir, perceived to be close to the military establishment, was among the contenders for the post of Ambassador to the US.

Others believed to have been in the running for the post earlier included Ambassador to the EU Jalil Abbas Jilani, a close relative of Prime Minister Gilani, and former envoy to the US and Britain Maleeha Lodhi.