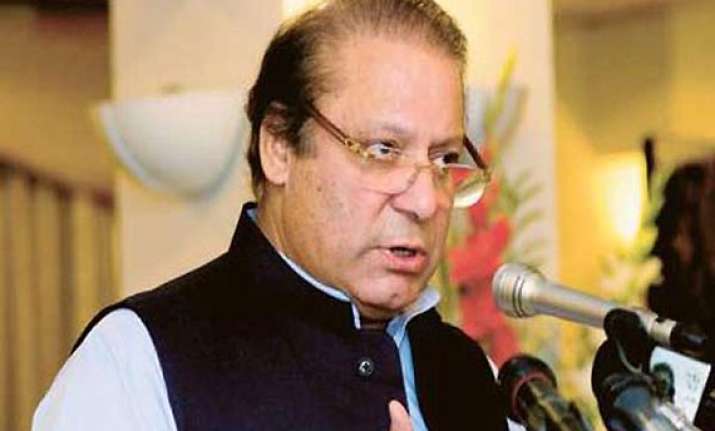 Islamabad: Pakistan Prime Minister Nawaz Sharif today ordered an immediate halt to death sentences, including that of many hard-core militants, till he has discussed the matter with President Asif Ali Zardari, an official spokesman said.
Sharif made the decision after Zardari wrote to him, saying he wanted to discuss next week's hanging of two dreaded Lashkar-i-Jhangvi militants amid calls from rights groups to cancel the planned executions.
The two LeJ militants are Attaullah alias Qasim and Muhammad Azam alias Sharif who were convicted by a counter-terrorism court in July 2004 for killing a Shia doctor and are scheduled to be executed between August 20-22 this year.
The official spokesman was quoted by TV news channels as saying that since the date of the executions was approaching and the President was away from the country, the premier had directed the Interior Ministry to withhold the execution of the death sentences till he holds a meeting with Zardari.
The stay would last until Zardari returns from abroad to discuss the matter with Sharif, a statement said.
"In due deference to the wish of the president, it has been desired that all executions of death sentences may be held in abeyance till the discussion takes place," it said.
If the ruling PML-N goes ahead with the executions, it will end a five-year moratorium on death sentences that was put in place by the previous government led by Zardari's Pakistan People's Party.
The spokesman further said that reports that the President had stopped the implementation of the death sentences were incorrect.
The Pakistan government also halted the execution of a prisoner in Punjab province at the last minute.
"The process of execution of a death-row prisoner has been halted last minute at the district jail Vehari (some 200 kilometres from Lahore) in pursuance of orders by the president to this effect," District Jail Superintendent Mohammad Ashraf said.
"All the arrangements were finalised for execution of a murder convict Munir Hussain when we received the presidential order in this regard," he told reporters.