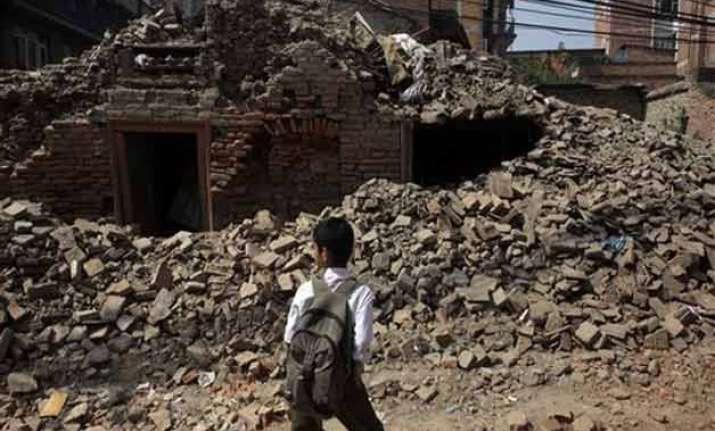 Kathmandu:  Clutching their parents' hands, children in Nepal, many still traumatised by the last month's devastating earthquakes, today walked through the rubble of their school buildings to attend classes for the first time after the worst disaster that killed nearly 9,000 people.  
Amid fresh tremors, schools reopened on Sunday, a working day in Nepal, and classes are being held in temporary classrooms made of tents and makeshift cottages.  
On the first day, no formal classes were held and the students were encouraged for extra-curricular activities like singing and painting to help them come out of the trauma of the 7.8-magnitude devastating earthquake on April 25.  
The students were encouraged to talk to teachers about their experience during the earthquakes to help them overcome the trauma of the quake, which destroyed more than 90 per cent of schools in the worst-hit districts of Gorkha, Sindhupalchok and Nuwakot.
School authorities said children will be made to play and interact with teachers before studies start in two weeks.  
The government is providing psycho-social counseling to the students before resuming regular classes.  
The reopening of the school was earlier set for May 17, but was delayed after a second major 7.4-magnitude quake rattled the country on May 12.
The earthquakes on April 25 and May 12 killed 8,693 people and injured 22,221 others.
According to a UNICEF statement, 32,000 classrooms were destroyed and 15,352 classrooms were damaged after the two major earthquakes in Nepal.
UNICEF says USD 24.1 million was needed to set up the learning centres, train more than 19,000 teachers and volunteers on psychosocial support.
Nearly a million children have been severely affected by the earthquakes, according to UNICEF.  
Over 100 temporary learning centres have been built across Nepal by the government and aid agencies.  
According to aid workers, over 4,500 education centres will have to be built to accommodate students who have been forced out of their classrooms by the earthquake.  
Some of the schools are running classes in two shifts due to limited makeshift rooms.
With reopening of schools, life is expected to limp back to normalcy in the temblor-hit zones.  
Minor tremors are still jolting the country. Two fresh tremors of 4.5 and 4.2 magnitude were felt last night and this afternoon.
So far, 293 aftershocks greater than four magnitude have occurred since the April 25 earthquake.