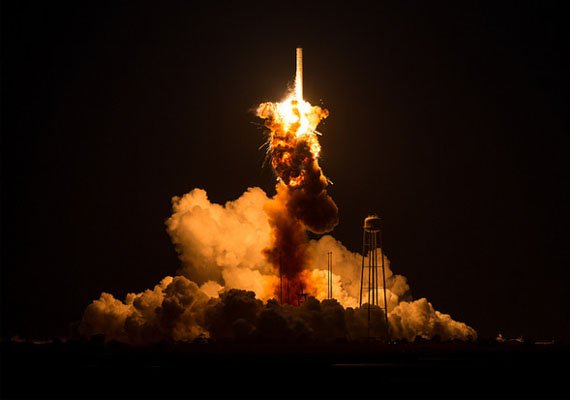 Washington: The explosion of an Orbital Sciences Corporation rocket carrying supplies to the International Space Station (ISS) has been the first setback to NASA's policy of employing private companies for such missions.
However, the incident does not signal the end of increasing cooperation in recent years between the space agency and private players.
An Antares rocket belonging to Orbital Sciences, carrying an unmanned Cygnus space vehicle with over two tons of cargo, exploded Tuesday, seconds after its launch from NASA facilities at Wallops Island in Virginia.
Though there were no casualties in the accident, the images of the explosion had a stunning impact.
"Accidents, especially in the initial stages of any programme, can happen," Sydney Do, a doctorate student at Boston's prestigious Massachusetts Institute of Technology (MIT), told Efe news agency.
While admitting that the image of the company would suffer, Do stressed the difficulty and risks of space flight.
"The more we fly, the more experience we get and the entire industry learns from these errors," Do said.
"Fortunately, it was an unmanned flight and there was nothing valuable or essential in logistical terms for the ISS," he added.
The company has opened an investigation, aided by the Federal Aviation Administration and NASA, to find out the causes of the explosion and prevent such incidents from recurring, according to a statement by Orbital Sciences executive vice-president Frank Culbertson.
Orbital Sciences has a contract worth $1.89 billion with NASA to undertake eight supply missions.
Its competitor, SpaceX, which was created by the co-founder of PayPal, has a contract worth $1.59 billion for 12 missions with its Falcon 9 rocket and Dragon capsule.
Commercial Spaceflight Federation president Eric Stallmer said that this was neither the first nor the last instance of such incidents and would not have a great impact on the direction in which NASA is moving.
NASA has plans to send a manned mission to Mars in 2030.