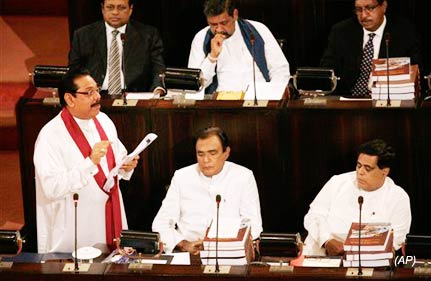 Colombo, Nov 22: Sri Lanka's powerful President Mahinda Rajapaksa today unveiled an expanded 59-member cabinet for his second six-year term as he retained his prime minister and foreign minister while rewarding with ministerial berths several MPs, including leader of the Sri Lanka Muslim Congress, who supported his government on a key amendment.
Rajapaksa, 65, chose to keep with himself the key Defence and Finance portfolios and retained Prime Minister D M Jayaratne for a second term.
The President's brother Basil Rajapaksa, the main political strategist of his administration, also kept his post of Economic Development Minister.
G L Peiris, the incumbent foreign minister, also retained his position.
Newly-appointed ministers along with 31 other deputy ministers took the oath of office before Rajapaksa at the Presidential Secretariat, ahead of the presentation of the first budget of his second term.
Ministerial portfolios were offered to several MPs who pledged their support to the government during the crucial vote on 18th amendment to the Constitution which removed the term limits for the presidency.
The previous Cabinet under Rajapaksa had 41 ministers in it.
Sri Lanka Muslim Congress, the leading party representing the Muslim minority which had supported the now jailed common opposition candidate Sarath Fonseka during the presidential election in January, also became a partner of the coalition government, accepting a Cabinet portfolio.
Its leader Rauf Hakeem has been appointed as the new Justice Minister.
Sri Lanka has introduced several senior ministerial portfolios similar to the Singaporean system and appointed 10 veteran politicians for such positions.
Functions and operational procedures of the newly introduced senior ministers in the executive President-led Cabinet were not immediately clear.
Key portfolios such as Defence and Finance continue to remain under Rajapaksa.
However, the President's son Namal, who entered Parliament in recent general election, has not been picked for any position.
A total of 12 junior ministers were promoted in the shake-up, which expanded the Cabinet to 59.
Rajapaksa also created a new post for "international monetary cooperation" and made ex-deputy finance minister Sarath Amunugama in charge of the portfolio, which is aimed at coordinating Sri Lanka's ties with foreign lenders. PTI