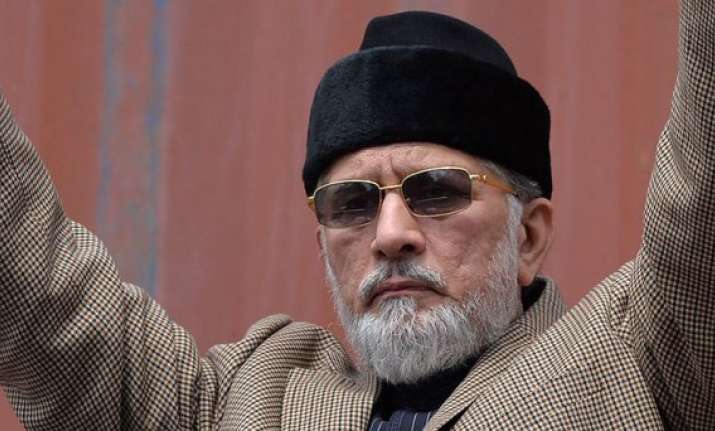 Lahore/Islamabad: Stepping up pressure on embattled Prime Minister Nawaz Sharif, cleric Tahir-ul-Qadri set a fresh 24-hour deadline for him to quit as protests around Parliament entered the 17th day today amid efforts by Pakistan army to mediate.
In a late night development, Qadri's camp was visited by a delegation of Imran Khan's Pakistan Tehreek-i-Insaf (PTI) led by Vice Chairman Shah Mehmood Qureshi, who convinced the Pakistan Awami Tehreek (PAT) chief to delay his next move.
Following the meeting, the first direct contact between the two groups since they together started the march on August 14, Qadri set a 24-hour deadline for the Premier to step down.
Putting up a brave front, Sharif was dismissive of the protest, describing it as a "tiny storm" that will end soon. "This is just a tiny storm, a tumult, which would be ended in a few days," Sharif said.  Indicating that certain forces were trying to target him, the Pakistan Premier asserted that "conspiracy" against democracy will not be tolerated.
"We will not tolerate any conspiracy against democracy. Everyone has seen how many people are part of the sit-ins," he said, adding his government would not let the protesters take the parliament hostage."
A few thousands cannot undo the mandate of millions of people, he said.
Qadri has set a number of deadlines since camping outside the Parliament since August 14.
After their meeting, Qureshi reiterated his party's request to postpone further action, which the protesters did not agree to. At this, Qadri came out of his container and asked his followers to give their assent to the PTI proposal.
He said PAT and PTI had a number of views in common and shared the same struggle, cautioning supporters that the government intended to create a split between the two.  The developments came after direct talks between the government and protesters failed to break the deadlock yesterday.
The army has been active behind the scenes to broker a deal after Qadri and Khan met army chief General Raheel Sharif on Thursday night, sources said.
The Sharif-led government has announced that it will accept all electoral reform-related demands but has rejected the call for the Prime Minister's resignation.
 
Meanwhile, in his late night address, Khan announced that his party would expand their sit-in to rallies in Lahore, Karachi, Faisalabad and Multan. Qadri asked his supporters to join Khan's protests.
Speaking to his supporters from atop his container outside the Parliament, Khan said he would announce his next step tomorrow.
Khan said that Sharif was spreading rumours that the army was backing him.
"Nawaz is a compulsive lair. Now he is saying the army is behind me is another example of his being a lair," he said.
Khan reiterated that the proposed judicial commission to investigate electoral rigging in the 2013 polls would be unable to probe the matter fully if Sharif remained the Prime Minister.
Sharif said that neither he would resign nor dissolve the Parliament.
"I have accepted the constitutional demands of both Imran Khan and Qadri but I will not accept their illegal demands of my resignation and dissolution of the Parliament," he said.
Sources in the ruling PML-N told PTI that Sharif had left the Prime Minister House for his Lahore residence along with his personal staff.
They said Sharif might address the nation today on the issue.