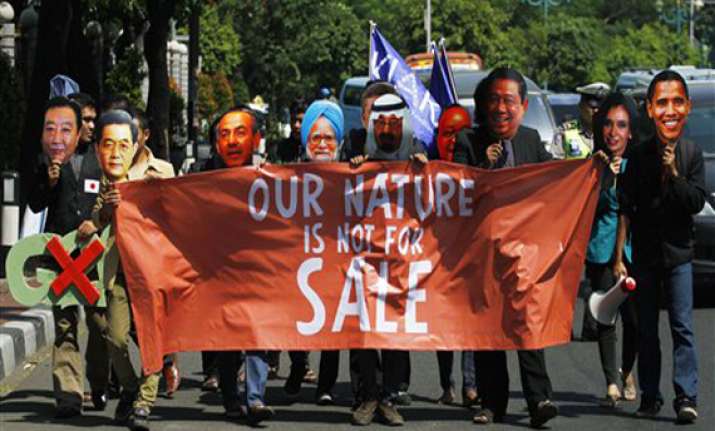 Los Cabos, Mexico, June 19 : As world leaders gathered in Los Cabos for the G20 Summit on Monday, activists unveiled a giant "one (tr) US dollar bill" to protest against subsidies on fossil fuels, and called G20 countries to invest in renewable energy and sustainable development.
Activists from the global civic organisation Avaaz.org said a plan to save the planet from climate change was needed, and urged the leaders to turn the "dirty money" spent in subsidies on fossil fuels into green energy.
"We need a global commitment out of this G20 and the Earth Summit in Rio that begins in two days. Specifically we need concrete action," said Mia Paz Cambronero, Campaign Coordinator for Avaaz.org.
"Three years ago the G20 made a commitment to end subsidies on fossil fuels, and the world has been waiting three years for real actions," she added.
At the G20 meeting in Pittsburgh, Pennsylvania in 2009, leaders of the world's largest economies agreed to end subsidies to oil, coal and other fossil fuels.
According to the organisation, each year governments around the world spend one (tr) trillion US dollars of taxpayer money to subsidise fossil fuels.
Organisers delivered a petition to Manuel Gomez-Robledo Verduzco, Deputy Secretary for Multilateral Affairs and Human Rights for the Mexico's Foreign Relations Department and head of the Mexican delegation at the Rioრ UN Earth Summit.
The petition has been signed online by over 750 thousand people around the world calling on G20 members to "green" nearly a one (tr) trillion US dollars in polluter payments.
An estimated 130 heads of state are expected in the host city Rio de Janeiro for the summit's three final days from June 20-22, culminating in the signing of a final document.
Top United Nations officials have said a successful Rioრ is crucial for the earth's future.