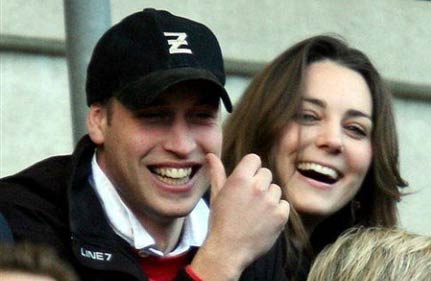 London, Nov 23: Prince William and Kate Middleton will marry on April 29 at Westminster Abbey, Clarence House announced today.
Prime Minister David Cameron said it would be "a happy and momentous occasion" and would be marked by a public holiday.
Westminster Abbey has hosted the weddings of the Queen and Queen Mother and was the venue for Princess Diana's funeral in 1997.
Cameron said: "We want to mark the day as one of national celebration, a public holiday will ensure the most people possible will have a chance to celebrate on the day.
The costs of the wedding itself will be met by the Royal Household, with government meeting any wider security or transport related costs."
On November 16, an official announcement had said that Prince William, the second-in-line to the British throne, is to marry his longtime companion Kate Middleton in 2011.
William-Kate wedding, which is likely to rekindle memories of the fairytale wedding of Prince Charles and Princess Diana in 1981, will climax an eight year on and off romance.
William is the most liked British royal after the late Queen Mother who died in 2002 aged 101 and Britons have been eagerly awaiting the nuptials for years.
"The wedding will take place in spring or summer of 2011, in London," a statement from the Clarence House announcing the wedding had said, adding that further details about the marriage will be announced in due course.
"Prince William and Miss Catherine Middleton became engaged in October during a private holiday in Kenya. Prince William has informed the Queen and other close members of his family. He has also sought permission of Miss Middleton's father," the statement had said.
William and Kate, both 28, will live in North Wales where the Prince is currently serving with the Royal Air Force.
The first to comment on the then announcement was Prime Minister David Cameron, who said "he was delighted" and wished the royal couple very best. PTI