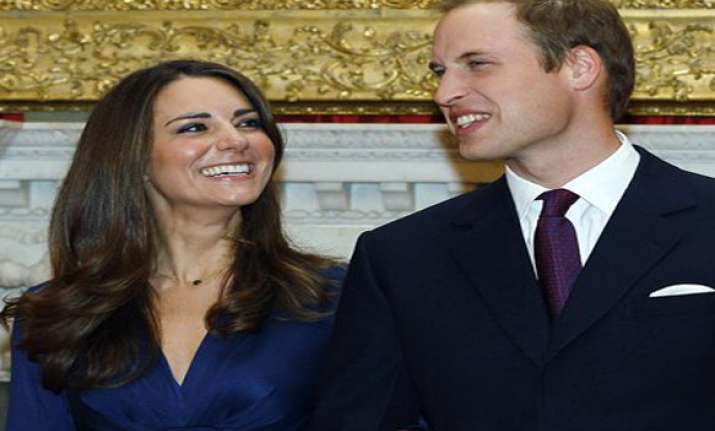 London, Feb 14 : Britain's Prince William and his fiancee Kate Middleton seem set on another break with tradition, this time through their choice of wedding cake.
For almost forty years, family baker Andrew Davidson has provided the cake for major royal weddings, including that of William's parents - Charles and Diana in 1981.
But this time the royals have politely declined, in a further sign that William and Kate are determined to do things their way.
Davidson owns Celebration Cakes, a small bakery in Stockport, near Manchester in the north west of England.
A bakery worker showers grated almonds over a rich mixture of fruit peel and other ingredients.
After shovelling everything into a 48-kilogram (105 pound) mixing bowl and checking that all the ingredients are properly spread out, he flicks a switch, and the process is underway.
A short time later, the cakes are on their way to the oven.
Then the bakery artists take over, using piped icing to apply the finishing touches.
It looks much like any other bakery, supplying cakes to a mainly local clientele, and it's a family enterprise, run by Davidson with his daughter Liz and grand-daughter Amy.
But Andrew Davidson has a particular claim to fame. He's supplied wedding cakes for all four of the Queen's children, including Prince Charles on the occasion of his marriage to Princess Diana in 1981.
Back then he was a college lecturer, teaching the art of baking cakes.
It took him and his students six weeks to bake a wedding cake for Charles and Diana, a five-tier structure that towered two metres (6.5 feet) high.
It was one of 23 wedding cakes accepted by Charles and Diana, in keeping with a tradition that bakers compete for the honour of supplying cakes, free of charge, to royal weddings.
Since setting up Celebration Cakes in 1989, Davidson has continued to enjoy royal approval, and provided a cake for the wedding of the Queen's youngest son, Prince Edward, in 1999.
"It's a great honour to do it," he said. "The staff get involved, and it gives them a boost as well. They enjoy being involved in doing a royal wedding cake."
The company had been expecting to send a cake to William and Kate's wedding too, but their application was turned down.
A disappointed Liz Davidson said it appeared Kate was putting her own stamp on wedding preparations rather than rely on Buckingham Palace courtiers.
"They're organising the wedding themselves, so they have more involvement with the wedding on this occasion, and perhaps she's choosing her cake maker and her dressmaker herself," she said when interviewed on February 3.
The couple will marry on April 29 at Westminster Abbey in London. AP