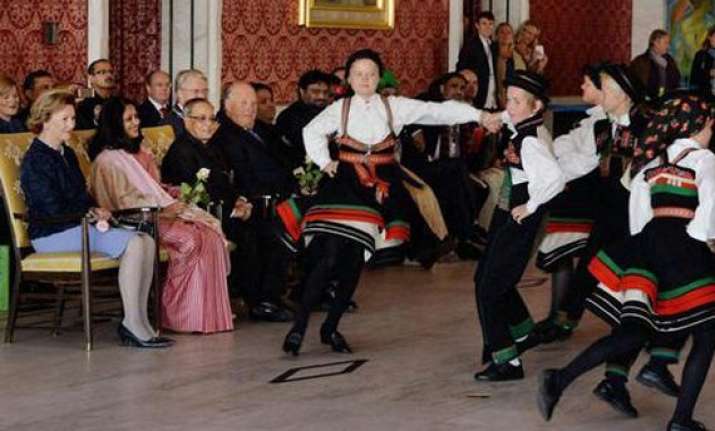 Oslo:  President Pranab Mukherjee on Monday began his maiden visit to Norway as he was received by Norwegian King Harlad V at the Royal Palace and given a 21-gun salute in Oslo.
After the guard of honour, Mr Mukherjee, accompanied by his daughter Sharmishta, was taken by the Norwegian King around the Royal Palace built in in 1849.
Later, the President visited "Storting", the Norwegian Parliament.
After his visit to Parliament, the President, the first head of state to visit Norway, wrote in the visitor's book that "it was interesting to learn about the functioning of Norway's unicameral Parliament. The people of India see Norway as an exemplary democracy with which we share many values."
The President arrived in Oslo on Sunday on the first leg of his two-nation visit to Scandinavian countries, including Finland, with an aim of giving a boost to India's relations with the region.
During his visit to Norway and Finland, a number of agreements on trade, education and earth sciences will be signed.
Mr Mukherjee, the first Indian head of state to visit Norway, will have meetings and interactions with besides King Harald, Queen Sonja, Prince Haakon and Crown Princess Mette-Marit.
Accompanied by Union Minister of State for Heavy Industries and Public Enterprises Pon Radhakrishnan and a high-level delegation consisting of Members of Parliament, educationists and businessmen, Mukherjee will also have meetings with Prime Minister Erna Solberg and the President of the Storting (Parliament), Olemic Thommessen.
India is looking at investments and expertise of the Norway which shares cordial relations with India and supported its case for waiver in Nuclear Suppliers' Group and observer in Arctic Circle, in the high-end technology in fisheries, ports construction and infrastructure.