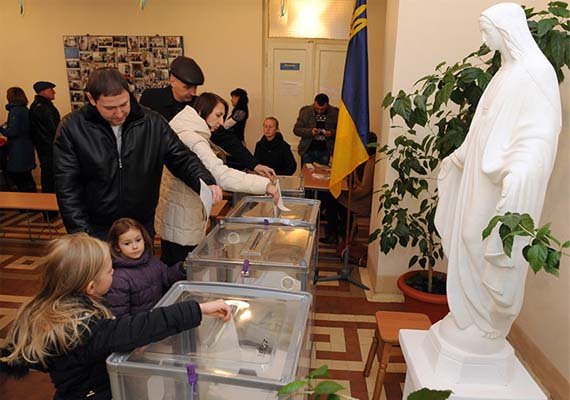 Kiev: The political bloc that supports Ukrainian President Petro Poroshenko is leading the country's parliamentary election with around 23 percent votes.
According to exit polls conducted Sunday night, the People's Front of Prime Minister Arseny Yatsenyuk came closely behind, getting about 21 percent votes, trailed by Samopomich, the party headed by Lviv Mayor Andriy Sadovyi, with about 12 percent of votes, Xinhua reported.
The Opposition Bloc, led by former fuel and energy minister Yuriy Boyko, gained only about seven percent of votes.
On Sunday, Ukrainians cast their votes in the snap election with 29 political parties and 1,401 candidates contesting in what was called "the most controversial election in the history of independent Ukraine" to help it emerge from an ongoing crisis.
Poroshenko's decision in August to call early polls to "purify" parliament has sparked controversy.
In a statement published on the presidential website after exit polls showed the Poroshenko bloc led the election, he thanked voters for backing a "democratic, reformist, pro-Ukrainian and pro-European majority".
"The majority of voters were in favour of the political forces that support the president's peace plan and seek a political solution to the situation in the Donbass region of Ukraine," the statement said.
Some 36.5 million voters participated in the polls.
Across the country, 32,086 polling stations were opened.