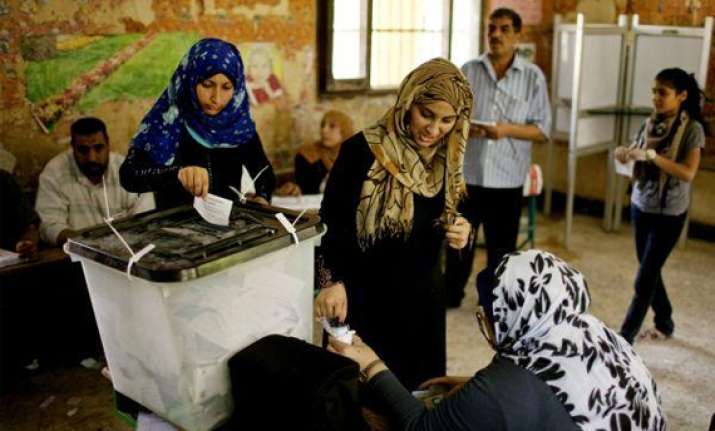 Cairo, June 17: A poor turnout was noticed at Sunday's phase two poll for the presidential election in Egypt with few crowds outside polling stations and the troops on edge.
Foreign journalists were asked to keep away from polling boths.
With no reliable exit poll data available, the impact of the low turnout is hard to gauge.
Some analysts are of the view that the decision by a large number of the pro-democracy youth to stay away from the polls could benefit Mubarak-era veteran Ahmed Shafiq, pitted against Mohammed Morsy, an Islamist from the Muslim Brotherhood, reports The Hindu.
The poor turnout notwithstanding, in no way can  Morsy be counted out of the contest.
The Islamist votes seemed to have consolidated behind him, and the Muslim Brotherhood's electoral machinery has a proven record of mobilising votes when they count.
Foreign television crews returning from work cited several instances of the military quietly filming them as they conducted interviews with voters. The process of profiling journalists seemed to have commenced in earnest.
Shafiq wants a speedy restoration of "law and order" in chaotic Egypt.
Shafiq's emphasis on security has many among the ranks of the pro-democracy protesters worry that the former aviator's elevation to the presidency will mark a return to the authoritarian rule.
Egypt has a rich history of  authoritarianism.  Gamal Abdel Nasser's modernist military coup to dislodge an entrenched monarchy began military successions, of which the late Anwar Sadat and  Hosni Mubarak were beneficiaries.
Across Egypt, a poor turnout seems to have been the norm. A pithy headline in the daily Egypt Independent, summing up the unhappy situation, read: "In Minya, diesel queues are longer than election queues," referring to polling in a central province.
Dismay at the dissolution of parliament on Thursday, which some called a "judicial coup" marshalled by the Supreme Council of the Armed Forces (SCAF), the country's de facto rulers, and the adoption of a string of draconian measures, such as arbitrary arrests, seem to have dissuaded many from visiting polling stations.
Said Sadek, a professor of political sociology at the American University of Cairo said in an online comment: "The turnout among youth is low…because they are disappointed. Revolutions are never straightforward."
A large number of secular voters who voted for Hamdeen Sabbahi, the neo-Nasserite candidate, may have also switched sides to support  Shafiq.
"I had no choice but to vote for  Shafiq because I cannot stand religious parties. But my children have voted for  Morsy," said Hamdi Awad, a supporter of Sabbahi, after voting on Sunday.