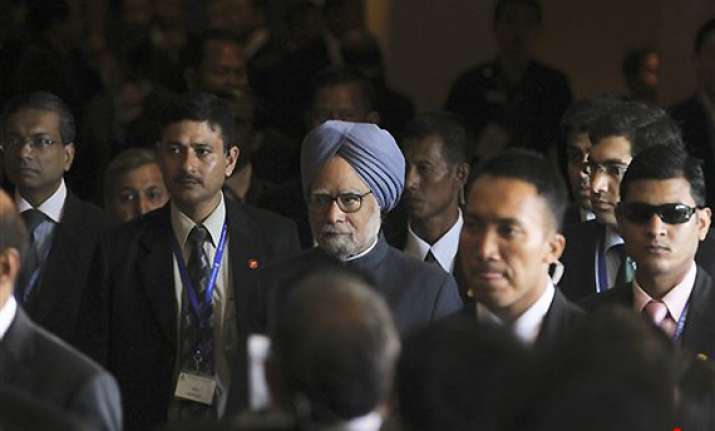 Singapore, Nov 19: Prime Minister Manmohan Singh arrived here today on a two-day visit as part of a two-nation tour aimed at pushing the 'Look East' policy. Singh will hold talks with Singapore Prime Minister Lee Hsien Loong on deepening economic, trade, cultural and people-to-people relations.

Singapore is India's largest trading partner in ASEAN, and the second largest investor in India and was the first country with which India signed a Comprehensive Economic Cooperation Agreement in 2005.

Singh will also unveil a 'Friend of our Shore' marker and bust of Pandit Jawaharlal Nehru in Singapore.  The marker is located at the Asian Civilizations Museum, on a green stretch along with Singapore River. It is a historically significant area in Singapore as it was on the banks of this river that modern Singapore began to build its reputation.

So far, four personalities—Polish-English writer Joseph Conrad, Father of modern Vietnam Ho Chih Min, Filipino revolutionary leader Jose Rizal, and former Chinese Communist party leader Deng Xiaoping have been given this decoration.

The Prime Minister arrived here after a three-day visit to Bali, where he attended the India-ASEAN meet and East Asia Summit, besides holding talks with US President Barack Obama and his Chinese counterpart Wen Jiabao.

At the East Asia Summit today, Singh cited the Euro zone crisis and pitched for greater economic integration between India and East Asia to contribute to the world economy.

During his more than hour-long meeting with US president yesterday, Singh told Obama that India had gone "some way" to allay the concerns of US firms by notifying rules for nuclear business and any specific grievance would be addressed within the "four corners" of Indian laws.

His remarks came against the backdrop of apprehensions among US firms that Indian liability laws were not supplier friendly.

The Prime Minister held talks with Wen against the backdrop of the South China Sea issue row and told him that India's oil exploration in the disputed maritime area is "purely commercial activity".

Singh also had a 'pull-aside' meeting with Australian Prime Minister Julia Gillard who made it clear that she would take forward her proposal to lift ban on uranium sale to India.