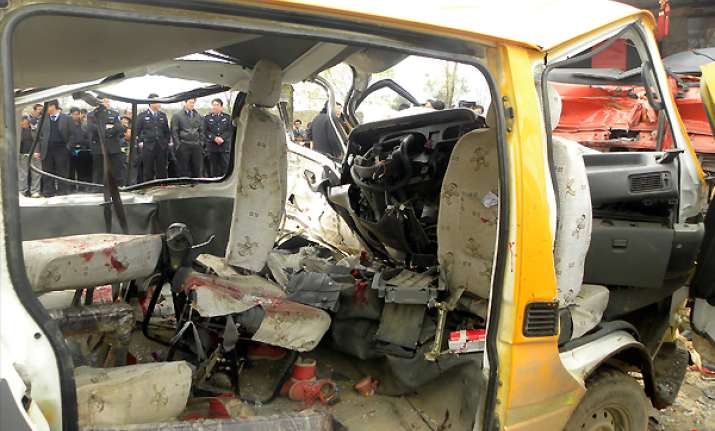 Beijing, Nov 17: Every time the dozens of kindergarteners crammed into their makeshift bus for school in rural China, their relatives worried for their safety.

Those fears were confirmed this week in a horrific wreck that killed 18 students.

"It was carrying way too many children," one boy's uncle said Thursday, a day after the crash in China's Gansu province. "It was very dangerous."

The nine-seater was stuffed with 62 students aged 3 to 5, a teacher and the driver when it collided head-on with a heavy truck on Wednesday morning on its way to school.

The two adults also were killed, officials said, while the two people in the truck were unhurt.

At Qingyang No. 1 People's Hospital, one of the two hospitals where the dozens of injured children were being treated, relatives said they knew the bus was overcrowded.

"Parents were worried about their children every time they sent them in the school bus," said the man, who would give only his surname, Zhou.

He is the uncle of 5-year-old Wu Cheng, who had been sitting in the back of the bus when it slammed into the truck.

He was recovering in hospital from head and feet injuries, and his nose was bleeding intermittently.

His parents, like many of those of the young crash victims, were migrant workers—farmers and other poor people pushed to seek work outside of the countryside.

Wu's parents work in Shanghai and heard of the bus crash on the news.

They were hurrying to the hospital and were expected to arrive Thursday evening.

Wu was in a room on the intensive care floor with three other boys who also sustained head wounds in the crash, according to a nurse.

They were out of danger and being watched over by their grandparents or other relatives.

There was an outpouring of sympathy for the plight of migrant parents and their "left behind" children on China's micro-blogging sites, popular especially with educated middle-class urbanites.

"Poor kids. What use the magnificent government buildings? Look at the school buildings in poor areas. Is this a so-called harmonious society? What are all the government officials doing?" asked a user who goes by the name of Soho Newcomer 2003322.

"If there were no left behind children in China, if kids could grow up around their parents, how much happier would the Chinese be," asked a user whose name translated as Cosy Little Home.

"The government has just treated the migrant workers like nothing," said another, lun1.

Children that go to the school where the bus was heading live from 1.6 to 5 miles (2.5 to 7.5 kilometers) away, said an official surnamed Gao from the Yulinzi township government, where the privately run Little Doctor Kindergarten is based.

Authorities have blamed the "overloading" of 64 people for the accident.

Such overcrowding on school buses is common in China. Commentators say closures of rural schools have exacerbated the problem, as children are forced to travel further to get an education while increasing the demand for buses.

Central government spending on education has steadily grown in recent years, rising a projected 16 percent this year to 296 billion yuan ($46 billion), about three-quarters of it given to local governments.

The overall figures mask great disparities, with rural areas chronically short of funds.

"The high cost of operating and maintaining school buses and the small profit made from this service stop many schools from purchasing them," Li Tao, laboratory director at the National Passenger Car Quality Inspection Center, was quoted as saying by the state-run Global Times newspaper.

Li said that most of the overloaded school vehicles involved in several deadly accidents in recent years were ordinary cars that fell well short of meeting 2010 school bus safety regulations on seat belts, windows, interior fittings and exits.

The Global Times carried a report Thursday on a national trend to consolidate rural schools by building new larger schools or expanding existing ones as part of China's education reform in rural areas that began in 2000 and now provides nine years of free education.

It quoted an estimate by the China All Women's Federation that there are 58 million children who have been "left behind" by parents who work in the cities.