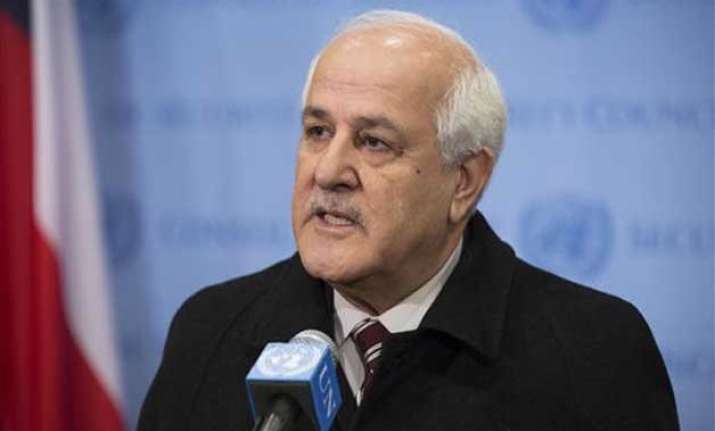 United Nations: The Palestinians took the last formal step Friday to join the International Criminal Court, seeking to pursue war-crimes charges against Israel over the recent conflict in Gaza and Jewish settlements in Palestinian territories.
The high-stakes move has drawn threats of retaliation from Israel and is vehemently opposed by the U.S. as an obstacle to reaching an Israeli-Palestinian peace deal.
After submitting the documents to join the ICC, Palestinian Ambassador Riyad Mansour said the Palestinians are seeking to raise alleged crimes committed by Israel, including during last summer's war in Gaza. He said the Palestinians will also seek justice for Israeli settlements on Palestinian territory, which he said constitute "a war crime" under the Rome statute that established the court.
"This is a very significant step," Mansour told reporters. "It is an option that we are seeking in order to seek justice for all the victims that have been killed by Israel, the occupying power."
The Palestinians moved quickly to join the court after suffering a defeat in the U.N. Security Council, which rejected a resolution Tuesday that would have set a three-year deadline for the establishment of a Palestinian state on lands occupied by Israel.
Joining the ICC is part of a broader strategy to pressure Israel into withdrawing from the territories and agreeing to Palestinian statehood.
Palestinian President Mahmoud Abbas has been under heavy domestic pressure to take stronger action against Israel after a 50-day war between the Jewish state and militants in Gaza over the summer, tensions over holy sites in Jerusalem and the failure of the last round of U.S.-led peace talks. He signed the documents to join the ICC a day after the Security Council rejected the resolution.
Mansour said Palestinian leaders are studying "all options" including going back to the Security Council, whose incoming members are viewed as more favorable or to the General Assembly where there are no vetoes.
Israeli Prime Minister Benjamin Netanyahu immediately vowed to take unspecified "retaliatory steps." The U.S. State Department said the Palestinian decision would only set back the aspirations of the Palestinian people for an independent state.
Mansour delivered the paperwork to Assistant Secretary-General for Legal Affairs Stephen Mathias, who said the U.N. will examine them to ensure that they are in proper form.
Mansour said it will take about 60 days under ICC rules for "the state of Palestine" to become the 123rd member of the court.
Mansour said the Palestinians delivered a letter Thursday night to the registrar of the ICC in The Hague requesting that the court consider alleged crimes committed during the Gaza war "and reserving our right for other retroactive crimes committed by Israel." He said he would be meeting with an official from the registrar's office in New York later Friday to discuss the issue.