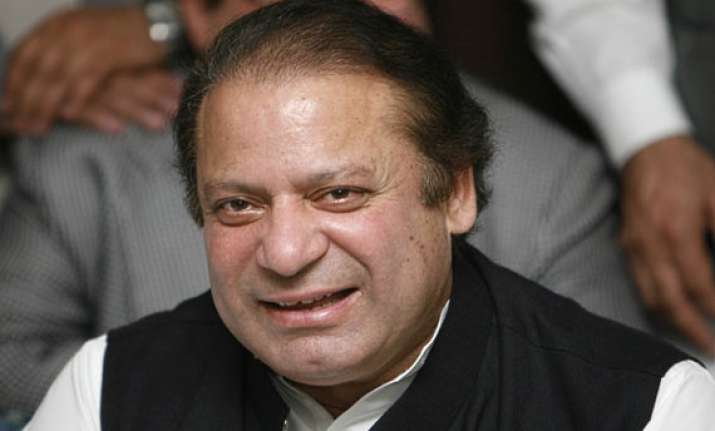 Lahore: A Pakistani court today ordered the registration of a murder case against Prime Minister Nawaz Sharif, his brother and Punjab Chief Minister Shahbaz Sharif and 19 others for their alleged role in the killing of 14 supporters of fiery anti-government cleric Tahirul Qadri here.  
The Lahore High Court dismissed petitions of three federal ministers of the Nawaz Sharif government against a sessions court's order with a direction to lodge a murder case on the application of Qadri's Pakistan Awami Tahreek without delay.  
In a short order, Justice Mahmood Maqbool Bajwa said the petitioners -  Federal Information Minister Pervaiz Rashid, Railways Minister Khawaja Saad Rafique and Water and Power State Minister Abid Sher Ali - failed to establish their case.  "However the police must hold a thorough investigation before arresting anyone nominated in the application," he observed.
The sessions court on August 18 ordered registration of a murder FIR against Nawaz Sharif, Shahbaz Sharif, Shahbaz's son Hamza Shahbaz, Interior Minister Chaudhry Nisar Ali Khan, Defence Minister Khawaja Asif, Khawaja Saad Rafique, Pervaiz Rashid, (also a relative of the Sharifs), former Punjab Law Minister Rana Sanaullah and top police officers who took part in the "barricade removal operation" outside the cleric's Lahore residence on June 17.
Fourteen people, including two women, were killed and 100 others suffered bullet wounds when the Lahore police raided Canada-based Qadri's office and residence in Model Town to remove barricades.
The three ministers pleaded before Justice Bajwa that the sessions court had ordered registration of FIR against those who had nothing to do with the June 17 incident.  "The prime minister and the federal ministers had nothing to do with the police operation carried out in Model Town to remove barricades outside the residence of Tahirul Qadri," the petitioners said.
Earlier, the police had refused to register the FIR as they could not do so without the approval of the Punjab government.
Meanwhile, the Joint Investigation Team, comprising Inter Services Intelligence (ISI), Intelligence Bureau (IB) and other law enforcement agencies, has held Punjab Chief Minister Shahbaz Sharif, his blue-eyed bureaucrat Taqueer Shah and former law minister Rana Sanaullah responsible for the killing of the 14 people.
A one-member judicial commission of Justice Ali Baqar Najfi has also not exonerated Shahbaz Sharif in the Model Town incident.