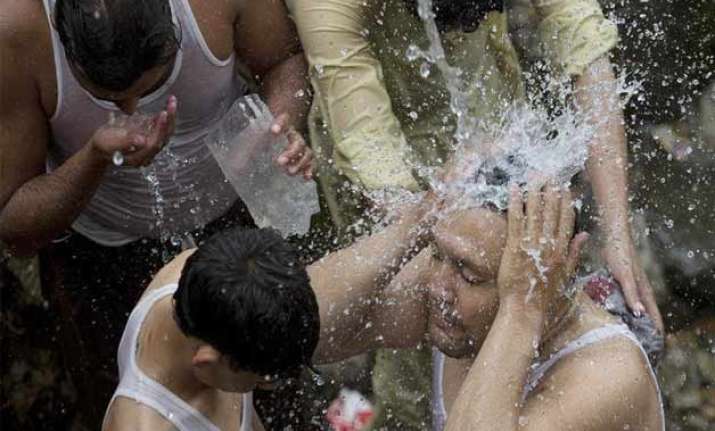 Pak heatwave toll crosses 1,300 with 25 more deaths
 
Karachi, Jul 1 (PTI) Another 25 people died in Pakistan's Sindh province today as the death toll in the country's deadliest heatwave in a decade reached 1,361 even as Prime Minister Nawaz Sharif ordered an inquiry into the tragedy.
According to officials the victims were admitted to hospitals for treatment of heatwave-related illnesses in the province and died today.
 
"They were 22 deaths reported today from different hospitals in Karachi and three in Badin and Tharparkar districts," a Sindh health department official told PTI.
Afzal Bughio said that the death toll from the heatwave in Karachi was around 1,260 while 101 more deaths were reported from other parts of the province.
 
Pakistan's biggest city and financial capital Karachi was gripped by a scorching heatwave last month when temperatures soared to around 45 degrees Celsius and coupled with heavy power breakdowns and load shedding led to hundreds of deaths.
Although the heatwave has subsided in the city and other parts of the province but Karachiites are yet to witness the full return of the customary sea breeze which makes life easier in the hot weather.
 
Bughio said overall the heatwave had affected more than 65,000 people in Karachi alone between June 21 to 28.
Prime Minister Sharif who made a flying visit to Karachi to review the situation said any department or officials found negligent in their duties would be held accountable.
"I have ordered a transparent inquiry against those responsible for the heatwave deaths in Karachi," he said during a meeting here.
 
Expressing grief and sorrow over the deaths, Sharif said the whole country was in sympathy with the affected families.
The premier also said that the federal government would release Rs 10 billion to the Sindh government to complete clean drinking water projects in the province.
This year's heatwave has also coincided with the start of the holy month of Ramzan, during which millions of devout Muslims abstain from food and drink from sunrise to sunset.