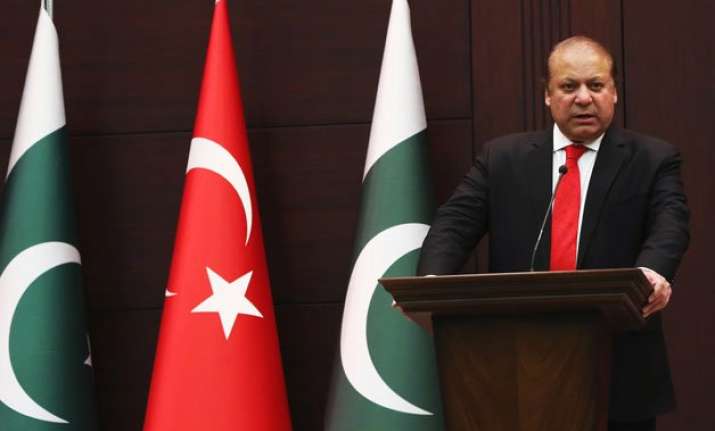 Islamabad: Prime Minister Nawaz Sharif said on Tuesday that Pakistan and China would fight together to eliminate terrorism.
"Our joint efforts against terrorism have succeeded so far but we need to intensify our efforts," Sharif said after Chinese President Xi Jingping's address to a joint session of parliament.
He also thanked Xi for visiting Pakistan, saying: "You are not just a friend from afar, but one who is so close to our heart."
"We are friends forever. We are close friends, dear brothers and trusted partners," Sharif added.
He said all political parties of Pakistan are united on a robust bond with China.
He also appreciated China's solidarity with Pakistan in "our quest for peace and stability in South Asia".
Talking about the mega Pakistan-China Economic Corridor, Sharif said: "It is a catalytic project that will help us combine the geo-economic streams of our countries."
"The corridor symbolises our commitment to create win-win partnerships which threaten none and benefit all," he added.
Sharif said young entrepreneurs, academics, media persons, teachers, students and professionals from both countries will sustain their friendship and make it even more productive.
Xi, during his address to the joint session, said: "Islamabad stood by Beijing at a time when it stood isolated on the world stage.
Xi is the first Chinese president to address a joint sitting of parliament. He arrived in Islamabad on Monday on his maiden visit to Pakistan.
"Pakistan and China's struggles have brought their hearts and minds together," he said.
He said Beijing and Islamabad have been of tremendous support to one another, adding both countries have stood by each other in times of need.
He also referred to the assistance offered by the two countries to one another in the events of natural disasters.
He also lauded Islamabad's anti-terror efforts, saying Pakistan had shown great character and courage in the face of adversity.
The joint session was attended by Chinese First Lady Peng Liyuan, chief ministers, governors, service chiefs, diplomats and other important personalities.
Pakistan and China on Monday signed 51 agreements and memorandum of understanding (MoUs) for cooperation in diverse fields with the Chinese president scheduled to unveil a $45-billion investment plan that can help Pakistan end its chronic energy crisis and transform it into a regional economic hub.