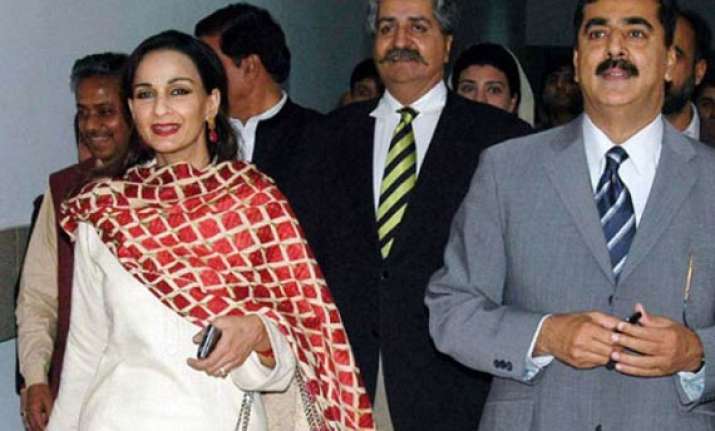 Islamabad, Dec 14: Pakistan's envoys in key world capitals on Tuesday recommended wide-ranging changes should be made in the country's relations with the US, including the rejection of understandings concluded by former military ruler Pervez Musharraf's regime for the war on terror. 

At the conclusion of a two-day conference convened by the Foreign Office to frame recommendations for a foreign policy revamp, the suggestions from the envoys were presented to Prime Minister Yousuf Raza Gilani by Ambassador-designate to the US, Sherry Rehman.

The envoys recommended that the government should make a fresh start in cooperating with the US in the war on terror by setting aside understandings and agreements forged during Musharraf's regime, including those on drone strikes and use of Pakistani facilities like Shamsi airbase, sources told PTI. 

Prime Minister Gilani called for a foreign policy revamp after a cross-border NATO air strike on two military posts killed 24 Pakistani soldiers on November 26. 

He sought recommendations from the Foreign Office and the Parliamentary Committee on National Security that could be debated by parliament as part of the process. 

Pakistan angrily responded to the air strike by closing all NATO supply routes and asking the US to vacate Shamsi airbase, reportedly used by CIA-operated drones. 

The envoys recommended that the government should ensure that US intelligence operatives could no longer operate in Pakistan as in the past, the sources said. 

They further recommended that future cooperation with the US should be "codified and institutionalised" to make the process transparent, the sources added.

The envoys, including those based in key capitals like New Delhi, Beijing and Kabul, said Pakistan should no longer focus on aid in ties with the US so that the relationship was not characterised by dependence.

"The ambassadors and high commissioners said Pakistan should have lower expectations from the relationship with the US," a source said.

At the same time, the envoys said Pakistan should insist that its "red lines" on matters like sovereignty must be respected.

The envoys also recommended the institutionalisation of Pakistan-US cooperation in Afghanistan. 

The envoys expressed their apprehension that the US was not interested in the reconciliation process in Afghanistan, the sources said.

A proposed US-Afghanistan security cooperation agreement could further complicate the situation in the war-torn country and US Secretary of State Hillary Clinton's "fight, talk and build" strategy was flawed, the envoys suggested. 

A statement issued by the Foreign Office quoted Foreign Minister Hina Rabbani Khar as saying that the conference had assessed the regional situation and implications for Pakistan, identified core foreign policy objectives and reviewed the terms of cooperation with the US, NATO and ISAF. 

"The envoys conference reaffirmed that Pakistan's external relations continued to be based on the principles of respect for sovereignty, independence and territorial integrity in accordance with international law as enshrined in the United Nations Charter," the statement said.