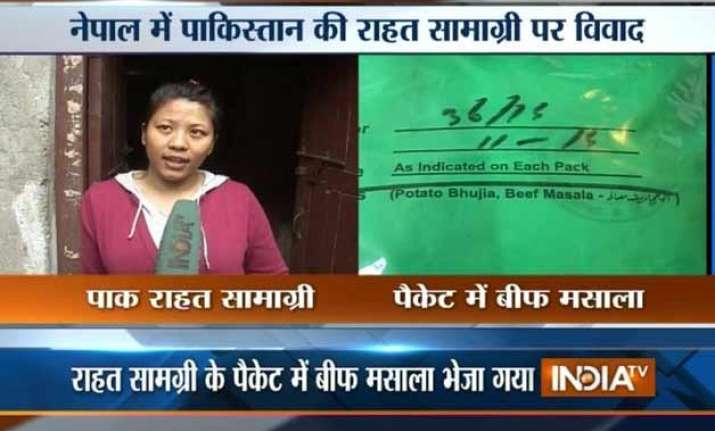 New Delhi: At a time when Nepal is struggling to bring back normalcy after a massive earthquake of 7.9 magnitude hit the Himalayan state, the relief material sent by Pakistan has created a new controversy that has shocked the Nepalese people. 
Pakistan, in the name of relief material, has reportedly sent  ready-to-eat 'beef masala' packets as part of relief material to a country where the cow is considered sacred.
Since the majority-Hindu country treats cows as sacred and there is a blanket ban on slaughtering the animal, the development has shocked the quake affected people. 
According to the reports, most of the local people are not aware of the contents. Once they get to know this, they avoid even to touch those packets.
According to reports available, these packets of 'beef masala' were sent by Pakistan on Tuesday as part of relief aid to the temblor survivors. 
A top Nepal government official said: "The matter has been conveyed to Prime Minister Sushil Koirala and the intelligence chief. We are also starting an internal inquiry to verify the facts. If the report is correct, we will raise the matter at the diplomatic level with Pakistan. India, being our key partner, will also be informed of the developments."
One the other hand, Pakistan has  strongly rejected reports that it had dispatched packets of 'beef masala' as part of relief aid.
Foreign office spokesperson Tasnim Aslam said that there was no beef content in the ready to eat food dispatched by Pakistan to Nepal.
The first Civil Code of Nepal, the Muluki Ain of 1854, stated: "This kingdom is the only kingdom in the world where cows, women, and Brahmins may not be killed."
But an amendment in 1990 to the Civil Code made cow slaughter punishable by 12 years in prison.
The toll in the massive earthquake that devastated Nepal has risen to 5,489, the Nepalese home ministry said on Thursday. As many as 10,965 people were injured. Some 134,864 houses were destroyed and 92,971 were damaged, the ministry said.