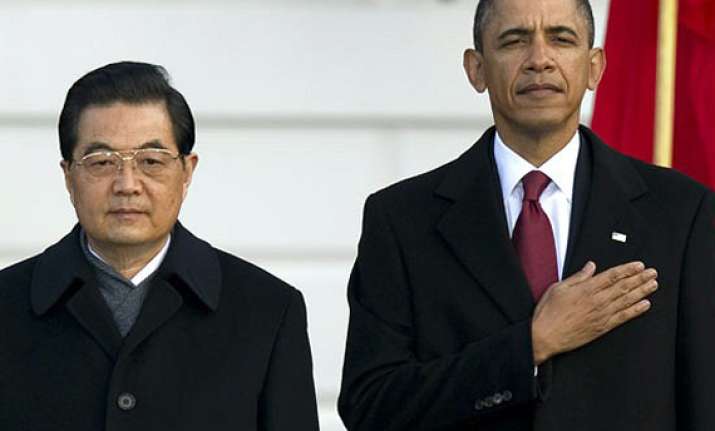 Seoul, Mar 26:
US President Barack Obama will Monday press China to persuade North Korea to abort its planned rocket launch, as his patience runs out with Beijing's handling of its belligerent nuclear neighbour.
Obama and President Hu Jintao will hold talks on the sidelines of a nuclear terrorism summit in South Korea. Their attempts to keep ties stable, despite domestic political turbulence in both nations, will be put to a severe test.
With North Korea vowing to launch a satellite next month, Northeast Asia is again on edge. Obama made clear in unusually direct language in Seoul on Sunday that he did not believe China's approach was bearing fruit.
While sympathising with its lot in sharing a border with the North, Obama suggested it was time for a change in Chinese strategy.
"What I've said to them consistently is (that) rewarding bad behaviour, turning a blind eye to deliberate provocations, trying to paper over these not just provocative words but extraordinarily provocative acts that violate international norms - that's not obviously working," Obama said.
How China communicates its concerns to North Korea "should probably reflect the fact that the approach they've taken over the last several decades hasn't led to a fundamental shift in North Korea's behaviour", he said.
Washington has frequently called on Beijing to rein in Pyongyang. China is the North's sole major ally and its biggest trade partner and aid provider.
In a speech on Monday, Obama reiterated that North Korea must abandon its nuclear weapons programme, while stressing to Pyongyang's leaders: "The United States has no hostile intent towards your country. We are committed to peace."
Hu and Obama will meet at a time when both leaders are increasingly preoccupied by domestic political calendars - with a new generation of leaders poised to assume power in China and Obama's quickening re-election bid at home.
Obama must watch his flank as his likely Republican foe Mitt Romney lacerates his policy towards Beijing, seeking to exploit a perception among blue-collar voters that unfair Chinese trade practices are costing US jobs.
Hu enters the Obama meeting against a backdrop of intrigue ahead of the 18th Communist Party Congress later this year, expected to enshrine Xi Jinping as China's next leader.
Their meeting comes also after China's Communist Party leadership was rocked by a rare scandal. Bo Xilai, leader of the Chongqing metropolis, was sacked after a key aide reportedly tried to defect to the United States.
"I think the summit meeting is very important for both countries, especially on the domestic side, given the election year in the US and the political earthquake surrounding the removal of Bo Xilai," said Zhu Feng, professor of international relations at Peking University.
"There needs to be an exchange of views on how bilateral relations can stay the same without too many disruptions over election politics and domestic factors," he said.
Obama and Hu have met multiple times on the sidelines of international summits, to further what both sides say is a desire to work together on vital economic and security issues.
But disputes over trade, frank talk over China's territorial spats with its neighbours in the South China Sea, and differences on Syria's crackdown on dissent and Iran's nuclear programme have eroded mutual trust.
Obama emerged from his last meeting with Hu in Hawaii in November showing clear signs of frustration, saying China must now act like a "grown-up" and play by global trading rules.
This month, Washington signalled that it would lodge a complaint with the World Trade Organisation against China's curbs on the export of "rare earth" elements, which are vital to the US technology industry.
The longstanding dispute over China's yuan currency, which Washington says is kept artificially low to boost exports, could also become an issue before November's election.
While US presidential candidates often lash China, only to fall in line with decades of foreign policy towards Beijing when elected, Obama cannot afford to ignore Romney's assault.
"Romney has set the tone," said Douglas Paal, an Asia specialist at the Carnegie Endowment for International Peace in Washington.
"Obama is not going to let Romney get to his right on China."