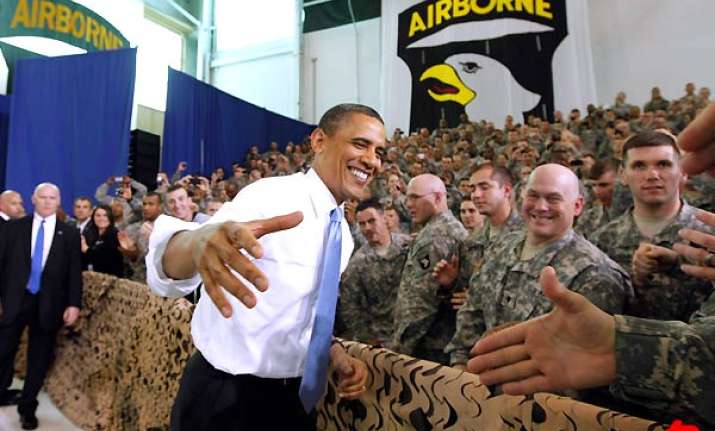 Washington, May 7 : US President Barack Obama has met some of the American special forces commandos, who killed al Qaeda chief Osama bin Laden in an operation in Pakistan and saluted them on behalf of the US and people all over the world for a "job well done".

Accompanied by Vice President Joe Biden, Obama was briefed on the operation by members of the special operations troops who executed the dangerous raid on Osama's compound in Pakistan and killed the al-Qaida chief on Monday.
The meeting took place at Fort Campbell, Kentucky where Obama had gone to address American troops on their return from active duty in Afghanistan.
Obama and Biden met with the full assault force that carried out the operation, a White House official said.

The president awarded the units involved a Presidential Unit Citation - the highest such honour that can be given to a unit - in recognition of their extraordinary service and achievement.

"Here at Fort Campbell, I had the privilege of meeting the extraordinary Special Ops folks who honored that promise.  It was a chance for me to say on behalf of all Americans and people around the world, job well done. Job well done," Obama said later in his public address to the troops.

The president and vice president then met with the 160th Special Operations Aviation Regiment and the 5th Special Forces Group to thank them for their service.

In each meeting, Obama was able to speak and offer his personal admiration and gratitude for our service members, and to personally greet them, the official said.

"Thanks to the incredible skill and courage of countless individuals - intelligence, military - over many years, the terrorist leader who struck our nation on 9/11 will never threaten America again," Obama said.

"Yesterday, I traveled to New York City, and, along with some of our 9/11 families, laid a wreath at Ground Zero in memory of their loved ones.

I met with the first responders - the firefighters, the police officers, the Port Authority officers - who lost so many of their own when they rushed into those burning towers. I promised that our nation will never forget those we lost that dark September day," he said.

Obama said these Americans deserve credit for one of the greatest intelligence military operations in the history of the United States.

"But so does every person who wears America's uniform, the finest military the world has ever known. And that includes all of you men and women of 101st," he said. PTI