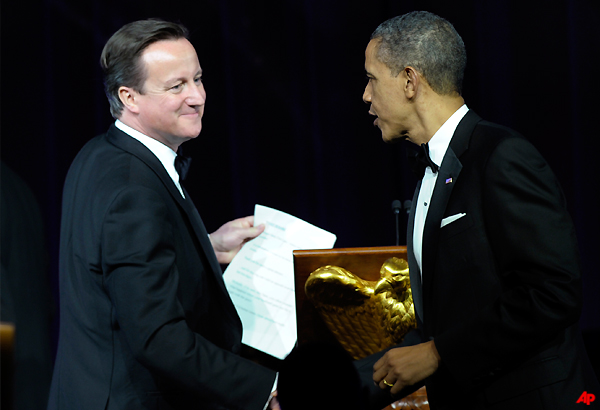 Washington, Mar 15: US President Barack Obama and visiting British Prime Minister David Cameron on Wednesday pledged to prevent Iran from acquiring nuclear weapons, but noted that there is still time and space for diplomatic options which is shrinking.

"I think they (Iran) should understand that because the international community has applied so many sanctions, because we have employed so many of the options that are available to us to persuade Iran to take a different course, that the window for solving this issue diplomatically is shrinking," Obama warned Iran during a joint news conference with Cameron at the Rose Garden of the White House.

Obama said he was determined not simply to contain Iran that is in possession of a nuclear weapon.

"I am determined to prevent Iran from getting a nuclear weapon, in part for the reasons....it would trigger a nuclear arms race in the most dangerous part of the world".

Cameron, who is here on a state visit, said Obama's tough, reasonable approach has united the world behind unprecedented sanctions pressure on Iran.

"Britain has played a leading role in helping to deliver an EU-wide oil embargo. Alongside the financial sanctions being led by America, this embargo is dramatically increasing the pressure on the regime," he said.

Obama said a nuclear Iran "would raise nonproliferation issues" that would carry significant risks to American national security interests. Obama argued that it would embolden terrorists in the region who might believe that they could act with more impunity if they were operating under the protection of Iran".

The president said therefore it is not an issue that is simply in one country's interests or two countries' interests.

"This is an issue that is important to the entire international community".

However, he underlined his determination to "do everything we can to resolve this diplomatically".