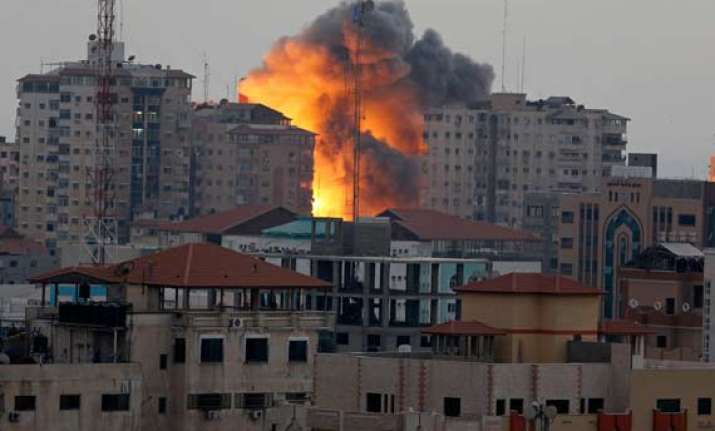 Gaza/Jerusalem: Nine Palestinians, including four children, were killed in Israeli air strikes in Gaza as the war entered its 47th day even as Egypt invited both sides to accept a fresh ceasefire to continue negotiations after the collapse of an earlier truce this week.
Israel and Hamas resumed hostilities on Tuesday, shattering a 10-day lull in violence, following the breakdown of a previous Egyptian-brokered ceasefire and talks aimed at finding a lasting end to the current fighting.
Five members of a Palestinian family were killed in air strikes on a home in central Gaza this morning, as Israel continued to bombard the besieged coastal enclave 47 days since the start of Operation Protective Edge on July 8.
The strike this morning hit the home of the Dahrouj family in al-Zawayda neighbourhood in the central Gaza Strip, killing a couple and their three children.
Spokesman for the Palestinian Ministry of Health, Ashraf al-Qudra, said that the rescue workers were able to recover all the five bodies.
A 64-year-old Palestinian man was killed in a separate airstrike south of Gaza City, and in Deir al-Balah a 12-year-old boy and his 38-year-old mother, as well as another 43-year-old woman, were killed, emergency services said.
The Palestinian death toll in Gaza has now reached 2,102, including about 500 children, with more than 10,550 injured, Gaza medics said. In Israel, 68 people have died.
UN agencies have claimed that 70 per cent of those killed in Gaza are civilians, including women and children, amid Israeli claims that the militant factions have been using civilians as "human shields".
In an interview with Channel 2, hawkish Israeli Foreign Minister Avigdor Lieberman said that the government needs to spell out "a strategic goal" that encompasses "defeating Hamas and bringing it to submission".
"That means Hamas waves the white flag. That is a realistic scenario, and it must be a goal," he emphasized. Israeli warplanes also destroyed three mosques in Gaza with the military saying that 30 sites have been targeted in air strikes so far.
One of the mosques destroyed was allegedly being used for meetings between members of Hamas' military wing in southern Gaza, a second was used to store terrorist infrastructure in southern Gaza, while the third in the north was used as a meeting point for Hamas members, security sources said.
Israel Defence Forces (IDF) targets included underground rocket launchers, facilities for storing and manufacturing weapons, and apartments used to coordinate terrorist attacks, security sources said.