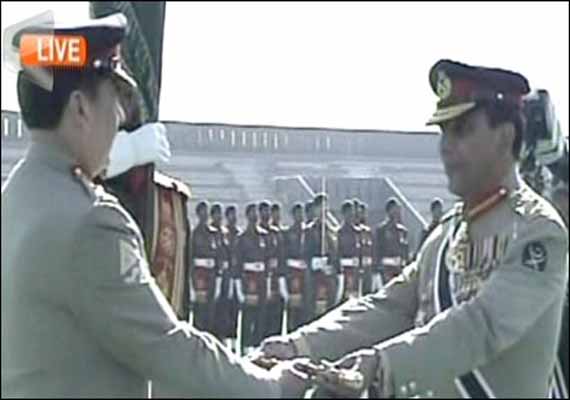 Rawalpindi: Pakistan's new Army chief General Raheel Sharif took charge today at a ceremony held here.  Outgoing army Chief General Ashfaq Parvez Kayani passed on the command stick to him.  
The ceremony at General Headquarters was attended by senior government officials,  army officers and diplomats.  
A contingent of armed forces presented farewell guard of honor to Gen Kayani, who retired after serving as the chief of Army for six years.
Gen Kayani, known as the 'quiet general of Pakistani politics,' has been given much credit for resisting the temptation to meddle in politics despite Pakistan's frequent security, economic, power and political crises.
Former military ruler Pervez Musharraf had appointed Kayani the army chief in 2007 and received an unprecedented three-year extension from premier Yusuf Raza Gilani in 2010.
During his six years tenure, he came across formidable challenges.
Newly appointed Chairman Joint Chiefs of Staff Committee, General Rashad Mahmood, Chiefs of Air Staff and Chief of Naval Staff among senior in-service and retired officers of trio armed forces attended the change of command ceremony.
Besides, Defence Minister, Khawaja Asif and a large number of politicians and journalists also witnessed the impressive change of command ceremony.
Profile: General Raheel Sharif
Born in Quetta on June 16, 1956 to Major and Mrs. Muhammad Sharif, newly-appointed army chief Raheel Sharif grew up steeped in the military tradition.
Sharif's elder brother, Shabbir Sharif, was a course-mate of General (rtd) Pervez Musharraf, and was killed during the 1971 war with India and was awarded the Nishan-i-Haider, Pakistan's highest military award.
He attained his formal education at Government College Lahore and later went on to attend the Pakistan Military Academy.