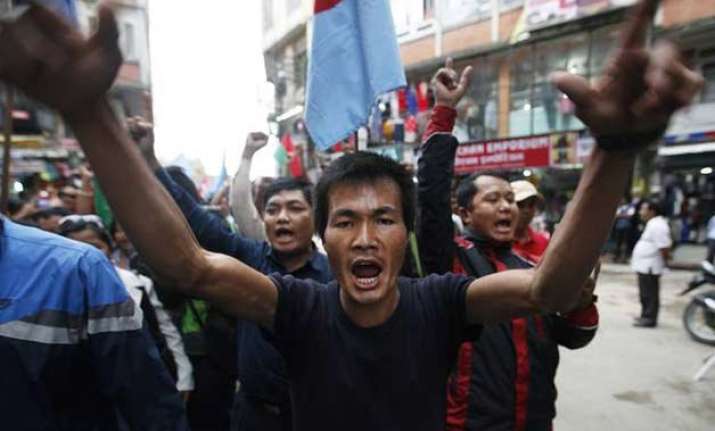 Kathmandu: The Nepal government today formed a team for holding a dialogue with the agitating Madhesi community, headed by Deputy Prime Minister Kamal Thapa who has just returned from India after parleys with Indian leaders, to end the current transport blockade over the new Constitution.  
The five-member government team will hold talks with the agitating groups including the Joint Democratic Madhesi Front.  
Today's cabinet meeting took the decision of forming the team headed by Thapa.
Thapa, who is also the Foreign Minister, returned home today after a three-day visit to India during which he met Prime Minister Narendra Modi, Home Minister Rajnath Singh and External Affairs Minister Sushma Swaraj.  
He said that the Indian leaders promised that fuel trucks lined up at a border crossing would be rerouted and more fuel would be supplied through other border points where there are no protests, to ease the supply of fuel to Nepal.  
The talks team headed by Thapa includes Law Minister Agni Kharel from CPN-UML, General Administration Minister Rekha Sharma from UCPN (Maoist) and Minister without portfolio Ram Janam Chaudhary from Madhesi Janadhikar Forum-Loktantrik.  
The fifth member would be included from the main opposition Nepali Congress, according to cabinet soures.  Newly-elected Prime Minister K P Sharma Oli had formally invited the disgruntled parties to come forward for talks.  
In response to his invitation, the Madhesi Morcha said though they are ready to sit for talks they could not call off their agitation without fulfillment of their demands.  
The Madhesi Front had already formed a four-member talks panel which includes among others Laxman Lal Karna from Sadbhawana Party and Sarbendranath Sukla from Terai Madhes Democratic Party.
Nepal is facing acute shortage of essential goods, including petroleum products and cooking gas, due to the blockade of a key trading point with India by Indian-origin Madhesi groups which are against splitting the country into seven provinces after promulgation of the new Constitution.  
Nepal has been accusing India of blocking supplies on the pretext of protests by Madhesi protesters in southern Nepal.  
India has denied the charge saying supplies were halted due to the security situation in Nepal amid ongoing violent protests that have killed over 40 people.
India has not yet welcomed the promulgation of Nepal's new Constitution though Modi had congratulated his Nepal counterpart Oli, hours after he was elevated to the top post.