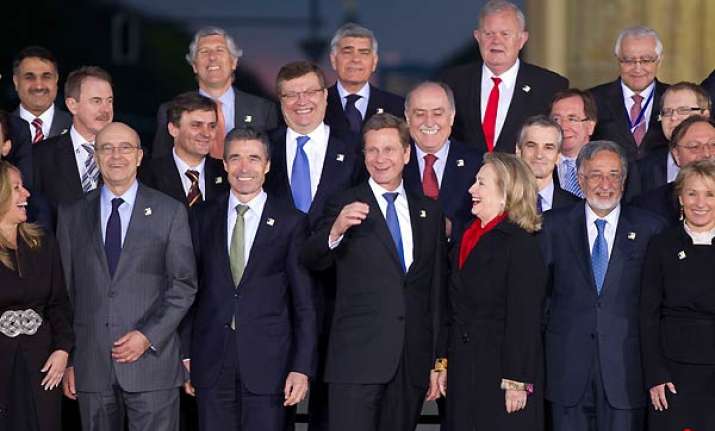 Berlin, Apr 14: NATO foreign ministers gathered today in Berlin amid calls for increased air strikes on Muammar Gaddafi's forces and growing divisions among world powers over whether to arm Libya's rebels.
The meeting came as NATO planes put on a show of force today above the Libyan front line, with rebels reporting they were bombing targets on the road leading west, towards the key oil town of Brega, and beyond that Gaddafi's hometown of Sirte and, farther, the capital Tripoli.

France and Britain agreed to step up military pressure on Gaddafi's forces after an international contact group on Libya meeting in Doha promised the rebels cash and the means to defend themselves.

French President Nicolas Sarkozy and British Prime Minister David Cameron agreed on increased military pressure at a working dinner in Paris ahead of the Berlin meeting, a source in the French presidency said.

"All means must be made available" in the fight against Gaddafi, the source said, amid efforts by London and Paris to step up pressure on their NATO allies to help defeat his regime.

The diplomatic moves came amid rising friction within the alliance over the NATO air campaign in Libya that has so far failed to change the balance of power on the ground.
In Doha, the international contact group on Libya decided after a daylong gathering yesterday to set up a "temporary financial mechanism" to aid the rebels seeking to oust Gaddafi.

It "affirmed that Gaddafi's regime has lost all legitimacy and he should leave and allow the Libyan people to decide their future."

While there was a consensus that Gaddafi must go, differences emerged over arming the rebels.  The rebel leadership said in a Tweet: "We're discussing weapons deals with countries that officially recognised the council; we've been getting positive replies."

The meeting's final statement said "participants in the contact group agreed to continue to provide support to the opposition, including material support." Qatari Prime Minister Hamad bin Jassem al-Thani told reporters this refers to "humanitarian means, and also means of defence.

And that means that the Libyan people should get the means that they need to defend themselves." But he seemed to acknowledge that this view was not universally held.

He said "people gathered here have different interpretations," while reiterating that "the first thing that the Libyan people need is self-defence."(AFP)